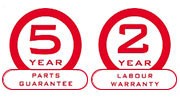 Baumatic believe their products will stand the test of time and so offer a much higher guarantee than most. With 2 years full guarantee and an extra 3 years parts, absolutely free. Make sure you register your appliance with Baumatic.

At Baumatic, no appliance will be manufactured unless it meets the very strict safety criteria for the users and their families as well as for the care of the environment.

Baumatic have demonstrated their huge demand by expanding across the world to become a global name. In 1992 they were established in the UK and then expanded to the Czech Republic, Australia, Italy, Germany, China and so the list goes on!

Appliances Direct are a leading online retailer. We strive to bring our customers the very best appliance deals from today's leading brands, whilst offering the best possible advice through our specialist trained team who collectively have out 100 years' experience.

We work closely with Baumatic to ensure our customers get a full offering at the best prices possible. Baumatic are a top manufacturer and are very popular amongst our customers due to their affordable prices and products that exude excellence and style.