Product Information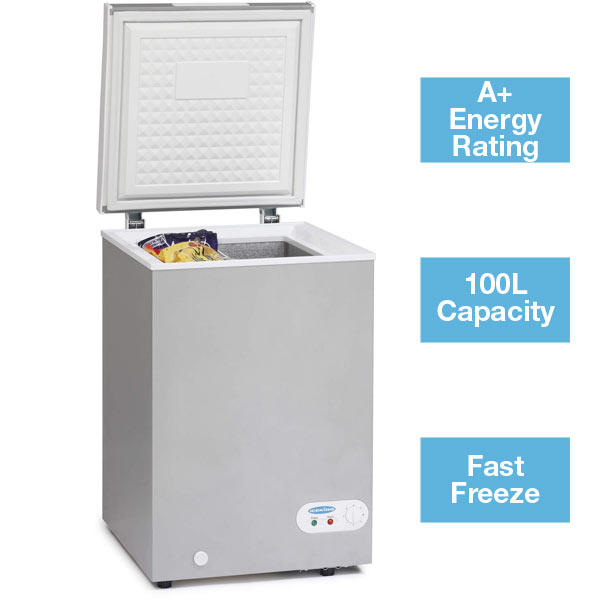 ADDED FREEZING CONVENIENCE
The Ice King CH101S freestanding chest freezer provides the perfect addition to any home to provide extra freezing space. With a spacious interior, this freezer provides ample room for added freezer storage, perfect for getting you through those long winters or batch-freezing meals to be cooked later.
SPACIOUS DESIGN
Conveniently compact in appearance, the Ice King CH101S delivers plenty of space inside with a capacity of 100L. The handy wire basket helps you to place more frequently used items within easy reach. Use it alongside your fridge freezer and never be short of space again.
EASY-TO-USE
The CH101S is compact enough to be able to reach most items, but the handy wire rack provides the perfect spot for storing those smaller items you need in easy reach.
Control the temperature within using the thermostat dial on the outside of the unit, helping you to choose the ideal conditions for your items. A temperature warning light lets you know if the temperature inside becomes too high, so you can take action before your food is ruined.
ENERGY EFFICIENT
Four-star freezing and fast freeze technology provides quick and efficient freezing of your items, making sure they maintain their freshness. With an A+ energy efficiency rating, you are guaranteed brilliant freezing power without racking up high energy costs.
USE IT ANYWHERE
Perfect for anywhere in the home, the Ice King CH101S is extremely convenient. Use it indoors for those items you need more regularly or, if you want to use it for bigger items or for storing items for special party occasions, you can just as easily use this freezer in an outbuilding such as a garage.
Features
A+ Energy rating (168 kWh/year)
100 Litre usable capacity
5.5 kg/24 hours freezing capacity
1 Basket included
4 Star freezer rating
External thermostat
Suitable for outbuildings
Dimensions H 84.5 x W 54.5 x D 54.5 cm