Product Information
The DC740SS electric double oven comes with all the cooking essentials plus some added benefits. From efficient fan cooking to defrosting, this double oven can cook, bake, grill and thaw with ease, leaving you free to focus on creating a culinary sensation!
With smooth and stylish control dials for the oven functions and temperatures, the timer is touch controlled with an assortment of sophisticated settings.
Where will this fit in my kitchen?
This oven is designed to fit into a cabinet 600mm wide. Please measure the dimensions against your available space and kitchen cabinets carefully to ensure it will fit:
Dimensions: (W) 595mm x (D) 564mm x (H) 718mm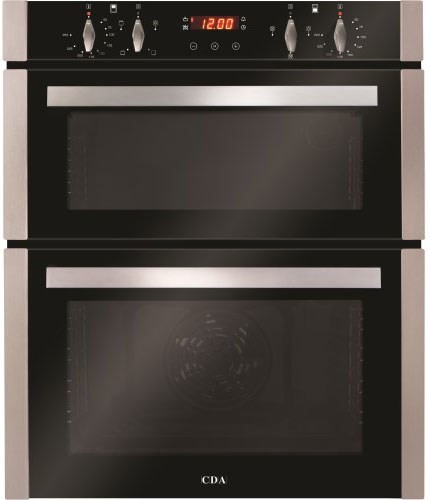 Capacity
This electric double oven makes cooking for a family much easier with a 50 litre main oven and a 35 litre top oven. From tackling the mid-week family meal to a batch of baking, this double oven comes with 3 flat oven shelves so you can maximise cooking space and cook meals comfortably.
Anti-tilt shelving
The oven comes equipped with chrome racked sides that allow the shelves to sit and to slide out without tipping or bending. This is suitable for providing extra support when taking heavy dishes in and out of the oven so that you don't tip or spill hot food.
Reduce pre-heating times
The main oven is given a boost by the addition of an interior fan. Using a circular heating element and a fan, hot air is distributed evenly throughout the cavity, reducing pre-heating time and ensuring food is cooked equally.
Defrosting
This double oven can operate just the fan to circulate room temperature air around frozen food in the oven. This speeds up the natural defrosting process and thaws food more hygienically than leaving it on the kitchen counter.
Top oven
The top cavity of this spacious double oven can be used as a grill and an oven, making for a very versatile cooking space, from grilling a small snack to becoming a useful extra cooking space for extra-large meals.
Touch control timer
The timer can be used for the top and the bottom oven as well as when the oven is on or off, so you can use it for timing other tasks in addition to cooking. You will be alerted of the end time with a beeping sound.
You can also use the timer to switch the oven off automatically after a set amount of time and you can even set the oven to turn on and off at a set time so you can get food cooking even when you're not at home.
Removable door glass
Cleaning the oven has become easier with the removable glass on the inside of the oven door. Slide the glass out of its clasps, and you can clean it thoroughly from the convenience of the sink, so you can see into the oven at all times.
Fan cooled door
This oven has been fitted with a cooling fan to lower the temperature of exterior surfaces of the oven and to reduce the amount of air leaving the oven to achieve maximum cooking efficiency. The cooling fan is automatic and will turn on when the oven is on and then runs for a while after the oven has been switched off.
The DC740SS also comes with a generous 5 years parts and 2 years labour warranty when you register it with CDA.
Accessories
3 Flat oven shelves
1 Grill pan with grid
Energy
Energy efficiency class - top oven: A
Energy efficiency class - main oven: A
Technical Specification
Top oven net capacity: 35 L
Main oven net capacity: 50 L
Rated electrical power: 4 kW
Power supply: 18 A
Two oven cavities for flexible cooking
Anti-tilt shelving
Touch control timer
Faster pre-heating times with the fan function
Removable glass for easier cleaning