Product Information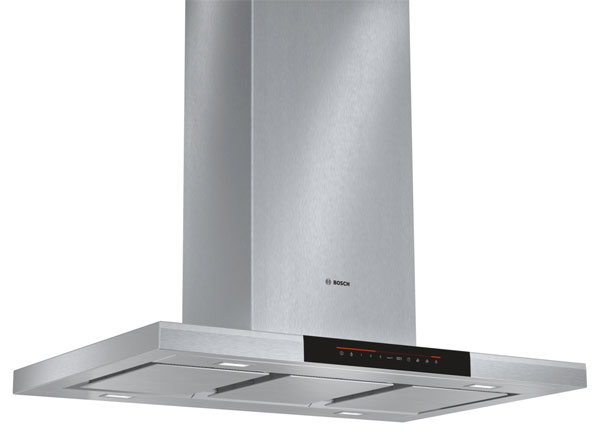 Designed to look fantastic from every angle, the Bosch Slimline Island Cooker Hood is aesthetically pleasing, as well as offering an amazing rate of extraction. Keeping your kitchen smelling great and reducing the amount of steam and smoke when cooking, this cooker hood helps to create a more pleasant environment to work and dine.
POWERFUL PERFORMANCE
Providing an extraction rate of up to 850m³/h, your kitchen will be rid of smells, smoke and steam in no time. With three extraction speeds, you can choose the perfect settings to suit your needs while cooking. The lowest speed is perfect for use when boiling or steaming items, while the most powerful extraction rate is fantastic for when you are cooking several dishes together.
Boost and Power Boost options are ideal for those pungent smells, clearing the air in no time.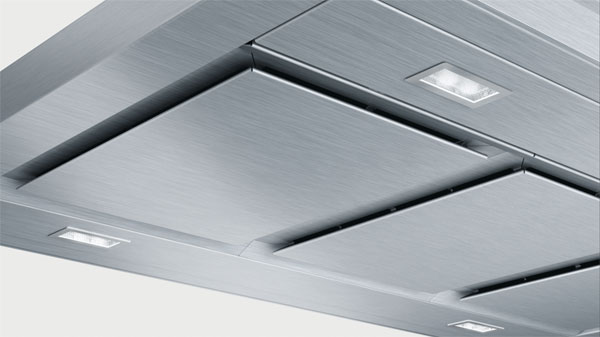 ISLAND COOKER HOOD
Ceiling mounted, this cooker hood can be perfectly lined up above your hob to produce the best results. Stunning in appearance from every angle, this hood makes a statement in your kitchen. With the ability to extract or recirculate collected air, it is suited to most kitchens.
Extraction vents the air outside, completely removing smells, steam and smoke. The recirculation option filters the air using the three integrated filters, removing grease and odour before passing it back into the room.
ADDED FEATURES
Featuring a timer, you can leave the fan working to eradicate smoke, steam and odours, even after cooking. Automatically switching itself off after the set amount of time, you can be sure your kitchen will be left fresh and odour free.
Four built-in LED lights offer brilliant illumination of your cooking area, giving you a clear view of everything you are cooking. Ideal for use as an ambient light to help find your way around the kitchen, this lighting adds to the overall stylish appearance of the hood.
Key Features:
Electronic control via TouchControl
EcoSensor
Design:
Designed for ceiling mounted installation
90 cm wide
Brushed steel
Inner frame
Features:
TouchControl with lightline
3 power levels and 2 intensive settings
Automatic intensive revert (6mins)
Automatic after running: 10 min
Rim ventilation
Additional noise reduction insulation
4 x LED lights
Softlight dimmer function
Florescent mood lighting
Light Colour: warm white
3 removable metal grease filter cassettes
Filter cover stainless steel, Removable metal grease filters
Saturation indicator for metal and charcoal filter
Filter saturation indicator
Performance/technical information:
Suitable for ducted or recirculating operation
Extraction rate according to EN 61591 ø 15 cm:
max. Normal use 620 m³/h
Intensive 850 m³/h
Extraction rate exhaust air according to EN 61591:
max. normal use 620 m³/h, intensive 850 m³/h
Power rating: 272 W
Noise level according to EN 60704-3 and EN 60704-2-13 exhaust air:
Max. normal use: 62 dB(A) re 1 pW (48 dB(A) re 20 µPa sound pressure)
Intensive: 69 dB(A) re 1 pW (55 dB(A) re 20 µPa sound pressure)
Noise max. Normal Level: 62 dB*
Average Energy Consumption: 46.7 kWh/year*
Energy Efficiency Class: A*
Blower Efficiency Class: A*
Lighting Efficiency Class: A*
Grease Filtering Efficiency Class: B*
Dimensions exhaust air (HxWxD): 744-924 x 900 x 600 mm
Dimensions recirculating (HxWxD): 744-1044 x 900 x 600 mm
Dimensions recirculating with CleanAir module (HxWxD): 812-1044 x 900 x 600 mm
Diameter pipe Ø 150 mm (Ø 120 mm enclosed)
Light Intensity: 888 lux
Colour Temperature: 3500 K
Efficient BLDC-technology
Optional accessories:
For recirculated extraction recirculating kit or CleanAir recirculating kit (accessory) needed
---