Product Information
Dimensions: H 52 x W 960 x D 370mm / Cut-out size: W 880 x D 330mm

Aesthetically pleasing, powerful and offering four different burners, the CDA HVG93BL gas-on-glass hob delivers the cooking tools you need without taking up too much of your counter space.
The long shape also makes it easy to access each burner without reaching over those at the front. You can therefore give each pan the same amount of attention when cooking.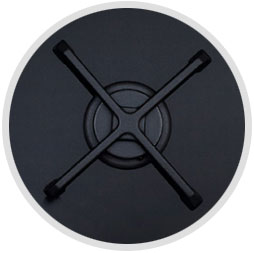 FOUR BURNERS
Prepare your meal in comfort, with every burner in easy reach thanks to CDA's linear design. Each burner has a different size, supporting a wide range of pan shapes and sizes. Use the smaller burners for smaller jobs such as boiling water. The larger burners are ideal for bigger dishes such as stew.
The large wok burner is ideal for making a stir fry but, if you are not in the mood for Chinese, you can adapt it to suit a large flat bottomed pan – perfect for making stews.

PRECISE CONTROLS
There are no set heat levels with the CDA HVG93BL gas hob, making it easy to cook every dish perfectly. Every burner is controlled using dedicated knob controls at the front of the hob.
Auto ignition helps to make lighting each burner quicker and much safer. Simply push the knob down to ignite a spark and turn to open the flow of gas.
Cast iron pan supports provide a safe and sturdy space for pots and pans of all sizes. By reducing the risk of falls and spills, you can concentrate on your cooking without worrying about cleaning up afterwards.

FLAME FAILURE SAFETY
Featuring a flame failure safety device for each burner, should the flame be extinguished, the flow of gas is immediately stopped. By reducing the risk of any dangers, you can have peace of mind by knowing your hob is safe.
CLEANING MADE EASY
The gas-on-glass design of this hob makes cleaning quick and easy. The ceramic glass surface remains cool during cooking so you can immediately wipe away any spills. For bigger tasks you can lift away the pan supports to wipe marks away, even in the tightest areas.
Key Features
Wok burner
Front control
Automatic ignition
Cast iron pan supports
Flame failure included
Burner
Front left: 3.5kW wok
Front right: 3kW rapid
Left centre: 1kW auxiliary
Right centre: 1.75kW semi-rapid
Accessories
Technical Specification
Rated gas input: 9.25kW
Rated electrical power: <1W
Power supply required: 3 amp