Product Information
Efficient, functional and affordable, this 84 litre integrated freezer from Indesit is perfect for a couple or individual's frozen food shop. It has a 4 start freezer rating, so you can rely on it to store food for up to a year, as well as provide you with constant temperatures at a low running cost.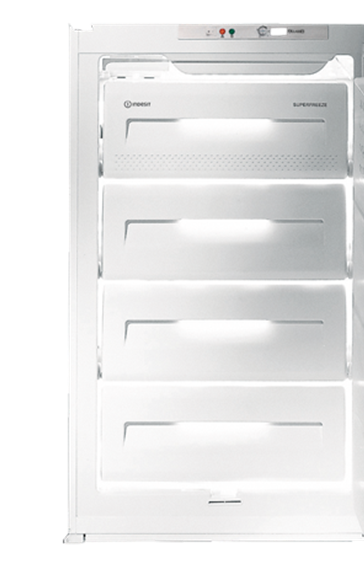 Dimensions: (H) 875mm x (W) 543mm x (D) 550mm
Designed to fit seamlessly with your kitchen
This freezer is an integrated appliance. Integrated (also referred to as in-column and built in) freezers are designed to stand in a (column) kitchen and behind a cupboard door, so you need to have a spare kitchen unit cupboard that matches your own at the ready to place on the front of it.
Being a built-in freezer means that you get all the benefits and storage of a freezer, whilst maintaining the look of your kitchen and giving it a streamlined and seamless appearance.
The freezer also has a reversible door, so you can fit it in a place that best suit the layout of your kitchen.
Storage
With 3 drawer compartments and 1 flap compartment, this freezer is designed to be able to accommodate all shapes of frozen goods, from square-boxed frozen pizzas to bags of vegetables and round tubs of ice-cream. It also comes with 2 ice cube trays for chilling down your drinks on those extra hot days.
Super Freeze
To accelerate the freezing process of fresh foods Indesit has included their Super freeze function that, at the press of a button, lowers the temperature to its lowest value for a short period of time so that it can keep your new frozen foods as fresh as the day you put them in. You can then return to normal temperature by pressing the button again.

Temperature control
Temperature is constantly monitored in the freezer to make sure that it stays at the ideal condition for your products. If the internal temperature increases beyond the optimal conditions for preserving your food, a buzzer will sound so that you can go and alter it.

Technical information
84 litre capacity
A+ energy rating
Energy Consumption per Year 199.00 kWh
Energy consumption (kWh/24hrs) – 190.0
Manual Defrost
In-column integrated fridge freezer
Sliding Rail Door Fixing Type
84 litres of usable space
4 storage compartments
Super Freeze function
Temperature control
---