Product Information
This microwave oven from Daewoo uses a concave reflex system that spreads heat evenly above and below your food for quicker and even cooking. Combined with 800W power and easy to read graphics that make programming easier, this 20 litre microwave is ideal for quick cooking, defrosting and reheats.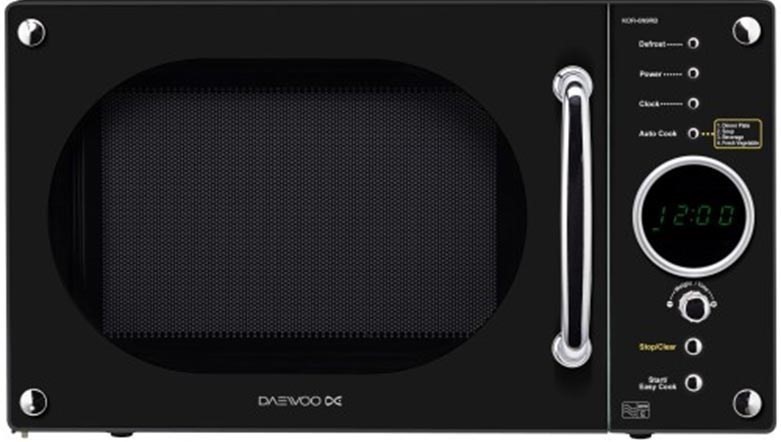 Size
With a 20 litre capacity, this microwave will reheat, defrost or cook a plate of food no problem. This is a freestanding microwave so measure its dimensions carefully to ensure you have a place in your kitchen to place it:
Dimensions: (H) 279mm x (W) 465mm x (D) 342mm
5 power levels
With a maximum 800W microwave power, you can choose to have this power operating at 100%, 80%, 60%, 40% or 20% power to make it suitable for dishes that don't need as much heat, or have lower level cooking instructions.
Cook in 1 or 2 stages
Aside from the standard 1 stage cooking, this microwave oven can be programmed to automatically defrost foods before continuing with the cooking of your frozen dish in a 2-stage cooking process, leaving you free to do other things whilst the microwave takes care of the food for you.
Two types of defrosting programmes:
Time Defrost divides the defrosting time you set into periods of alternating defrost and stand times.
Weight defrost lets you easily defrost food by eliminating guesswork in determining defrosting time.
The microwave oven comes with a defrosting frozen food chart in case you're not sure about the amount of time certain foods needs to defrost for, to ensure you thoroughly thaw food before cooking.
Auto cook
Cook or reheat many of your favourite foods with 1 of 4 menu programmes which are clearly listed in a box next to the auto-cooking button on the microwave:
Dinner plate
Soup
Beverage
Fresh vegetable
Easy cooking
If all that programming is too much for you on those busy evenings, the Easy cook function allows you to reheat for 30 seconds at full power with the possibility of extending this reheating time to 5 minutes at 30 seconds increments for effortless reheating.
Child safety lock
Prevent accidental operation of the microwave by engaging the child safety lock, so that the microwave can only be used when you want.

Freestanding microwave oven
20 litre capacity
5 power levels
2 types of defrosting
4 auto-cook menus