Product Information
Explore your cooking potential with this stainless steel range cooker. Using gas for the oven, grill and hob, you can achieve accuracy with your cooking that is easy with a gas appliance. With a 90cm width, 5 burners and a 107 litre oven, this range cooker has a premium and professional design that will reveal and nurture the inner chef in you.
Dimensions: (H) 865-920*mm x (W) 900mm x (D) 600mm
* This range cooker comes with height adjustable feet so you can alter the oven to match your kitchen unit level.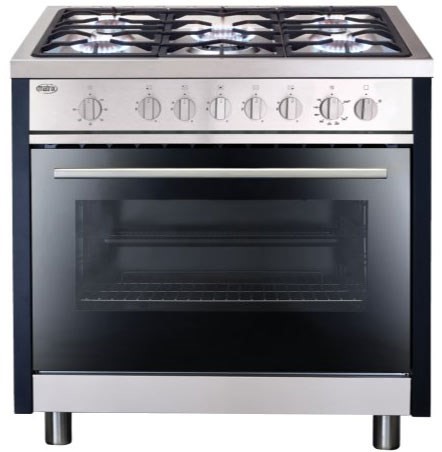 Oven Features
2 in 1: This cooker has an oven and a grill which comes in handy if you want to finish off a dish without taking it out the oven. All pots and dishes are held securely in the oven with anti-tilt shelving that is stabilised by chrome rack sides.
Light it up: The oven has an interior light which will help you to see clearly across the shelves and keep track of food without having to open the oven door and lose the temperature.
Countdown: If you want to keep track of your cooking without constantly looking in the oven door, there is also a 60 minute countdown timer, that can alert you to come back to check on your cooking after a set amount of time.
Cool down: When you have finished cooking, the cooling fan will make sure the oven simmers down nicely and will prevent the ovens surface from getting too hot to touch.
Hob Features
Range cookers have always had generous hobs, and this range cooker from Matrix is no exception. With 4 burners around the edge which are perfect for your everyday cooking, there is also a triple ring burner in the centre.
Perfect for cooking larger quantities of food over a wider and faster surface area of heat, this triple ring burner also comes with a cast iron wok support which can be fitted onto the triple ring burner to support wok cooking.
All the pan supports are made from sturdy and durable cast iron, and all burners have automatic ignition and a flame failure device so that your kitchen remains a safe environment to cook in.
Easy to clean
Cleaning such a large appliance used to be daunting, but not anymore. The chrome side racks and door are easily removable, so you can effortlessly access the inside of the oven and give the door and racks a thorough clean from the convenience of the kitchen sink.
Suitable for LPG
This cooker comes with a LPG conversion kit so that you can install it in places where a natural gas supply isn't readily available such as a caravan or a very rural house. You can also put it in place of a previous LPG appliance, making this range cooker a very versatile appliance.
Accessories
Cast iron wok support
Flat shelves
Grill pans with grid
LPG conversion kit included
Hob Specification
Centre - wok: 3.7kW
Front left - rapid: 3kW
Front right - rapid: 3kW
Rear left - semi-rapid: 1.75kW
Rear right - semi-rapid: 1.75kW
Technical Specification
Main oven gross capacity 110L
Main oven net capacity 107L
Rated electrical power 0.05kW
Rated gas input 17.7kW
Modern, stainless steel range cooker
Gas fuelled oven, grill and hob
5 burners, including a triple ring/wok burner
Removable door for easy cleaning
LPG conversion kit included

Matrix guarantee
All Matrix products are extensively tested to ensure complete assurance of quality and reliability.

2 Year Warranty
The entire Matrix range is covered by a 2 year warranty guarantee, offering support and maintenance.

Style & design
Products from the range are designed with the idea to combine modern functionality with timeless aesthetics.

The CDA Group
Matrix is part of the CDA group and has been established in the appliance world for over 10 years.