Product Information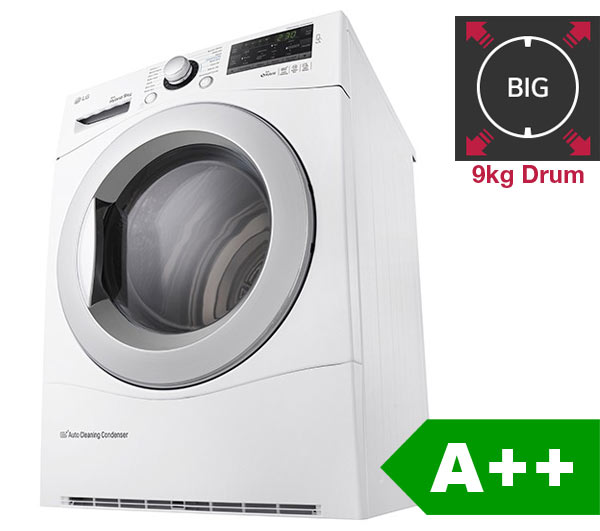 The perfect addition to any home, the LG RC9055AP2F delivers incredible drying power, giving you the perfect solution to your drying needs all year round. With its huge 9kg load capacity, you can dry the whole family's laundry at once, saving you time and energy.
ENERGY EFFICIENT
The LG RC9055AP2F features Eco Hybrid™ technology, giving you brilliant drying results but without the high energy usage. Helping this dryer towards an A++ energy rating, Eco and Speed Modes significantly reduce the overall time and energy usage of each cycle.
TAILORED DRYING
With a range of drying programmes, you can choose the perfect cycle to ensure your laundry is looked after with the LG RC9055AP2F. Programmes include: cotton, mixed fabrics, easy care, bulky items and jeans.
A number of special programmes help you to get the best results for particular items that require special attention, or simply to get your items dry in less time. They include: sportswear, quick dry, delicate, wool, skin care and refresh.
Two way drying helps to reduce creases in some cycles by preventing items from becoming tangled up.
If you want to schedule your drying for a more convenient time, the delay timer lets you set a time for the cycle to start. Great for drying items during the night when energy costs are sometimes lower, you can save even more and have perfectly dry items waiting when you wake up.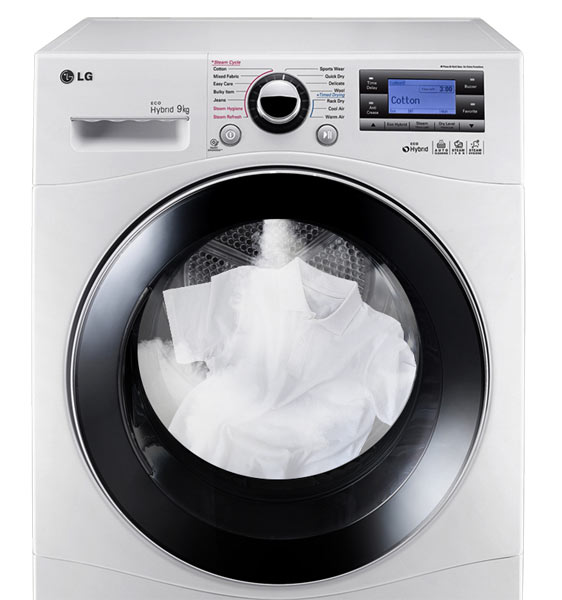 SMARTER DRYING
Smart sensors inside the RC9055AP2F monitor how much moisture is in each mode. This helps the dryer to determine the ideal amount of energy used and time spent on your cycle so it can deliver perfect results. This smart drying technology helps to save you money by reducing the energy used while also protecting your clothes.
WORRY FREE DRYING
Unlike many condenser dryers, the RC9055AP2F features an auto-cleaning condenser. That means you don't have to worry about cleaning out the lint tray for the best performance. The filter is extremely easy to slide out for easy cleaning.
A handy Smart Diagnosis™ app helps you to diagnose up to 28 technical problems straight from your smartphone.
Features
Eco Hybrid: save energy and time
Heatpump technology: Economical (A++) and ultimate fabric care
Auto cleaning condenser
Sensor dry for excellent drying performance
9kg load capacity
Two-way tumbling to reduce tangling and creasing
Smart Diagnosis to easily diagnose and fix 28 common technical faults
Easy to clean filter
NeveRust stainless steel drum
LED drum light
---