Product Information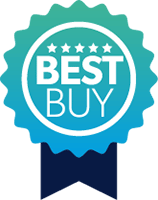 Best Buy
By collaborating with some of the world's greatest brands, we've created specialist Best Buy collections across our most popular product ranges. We will keep them updated, to bring you the best choice, the best price and the best products. And that's a promise.
What stands out
Powerful smart robot vacuum cleaner with 2000Pa strong suction.
Large-capacity battery 5200mAh. One-off cleaning of up to 250sqm.
360⁰ laser mapping with LDS navigation, for high-efficient sweeping.
Control the robot using your smartphone and set it to clean anytime from anywhere!
Compatible with Alexa and Google Assistant, providing ultimate ease of use
Switches between hard floors and carpets automatically
Slim profile - cleans under tables, beds and other hard to reach places
Built-in sensors to avoid bumping into furniture and falling down the stairs
Automatically returns to its home base to recharge if the battery gets low
The details
If the idea of vacuuming your home after a long day at work doesn't sound all that appealing, then we've just had the thing for you. This clever little cleaner is designed to keep your home looking spick and span without you even having to lift a finger, so you have more time for the things you want to do. It's loaded with some really impressive features that you'd normally expect to pay a premium for, but at a fraction of the price! For instance, strong suction power 1800-2000Pa which can vacuum anything on its way; long service duration with a 5200mAh large-capacity battery. It boasts built-in Wi-Fi connectivity, so you can set the vac to clean from your smartphone, anytime, anywhere! You can also use the app to schedule the robot to work at a set time or day to suit you! Alexa and Google Assistant compatibility provides you with ultimate ease of use.
This smart robot comes with a powerful cleaning system that makes short work of embedded dirt, dust, and even picks up stubborn pet hair from pretty much any surface - wood, carpet, tile, vinyl and lino, adjusting to different floor types all by itself. It's also fitted with a full range of sensors to ensure it works its way around your room whist avoiding your furniture and stairs. The laser navigation system detects objects and scans your rooms precisely. And, thanks to its slim-line design, the robot is able to get under things like sofas and beds with ease, cleaning up any hard-to-reach dust and dirt that would otherwise be overlooked. Best of all, you don't even have to worry about running out of charge, because this clever vac automatically returns to its home base to recharge after cleaning or if the battery is low.
Essential info
Suction Power: 1800-2000 Pa
Max run time: 2.5 hours
360 degrees LDS pressure sensor
Flat floor types: Hard floor / short pile carpets
Dustbin capacity: 420ml
W x H x D: 35 x 35 x 9.7cm
Weight: 3.5Kg
Rechargeable battery: Li-ion 14.4V 5200MAH
1 Year warranty
More info
Smart vacuum process removes dust, dirt and pet hairs across most floor types
Easy to set up and use
The app works with both iOS and Android devices
Compatible with Alexa and Google Assistant
Simple app lets you schedule cleaning every week
Cleans under furniture and into corners and wall edges
Scan the room with built-in Laser sensors. Avoids stairs and other drop-offs
Automatically returns to its home base to recharge
What's in the box?
1 x Robot Vacuum
1 x Charging dock
1 x Main Brush Cleaner
1 x Power Cord
Download wifi Instruction Manual