Smeg Home Appliances




Not seen the category you're looking for?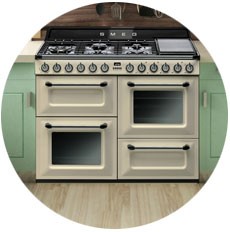 Italian Excellence - Aesthetic design combined with innovative technology results in unique products, which both look great and are highly functional.
Renowned Design - Smeg have an incredible reputation for the design of their products, with many of their 50's style products being instantly recognisable as a Smeg product.
Chosen by Professional Chefs - Combining design with outstanding cooking performance Smeg is the perfect solution for creative chefs.
Great Performance - Smeg have utilised only the best materials to ensure long life and great performance.
Know-how, creativity and style - A few of the qualities that have evolved from Smeg's Italian identity and characterises the company's commitment to bringing everyday objects to life.