Zanussi Home Appliances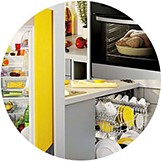 Well Known and Well Loved - Their Italian flair and passion for well made, easy to use products is established and loved by conusmers.
Over 42 Million Units Sold - Zanussi has sold an equivalent of 1 appliance for every 5 households in Europe.
Greater Freedom - Zanussi appliances are so easy to use, they allow you to spend time doing other fun things.
Italian Flair - Italian since 1916, developing appliances with real Italian flair and quality.