Product Information

This is a graded product. A3 products may have slight damage and marks. All products are tested and in good working order.
GRADE A3 - Heavy cosmetic damage - Dent on booth doors right edge, 2 dents right hand side at lower edge, dent right hand side at rear edge, cluster of small dents left hand side in the middle.
Energy: A+
4 Star freezer
Super freeze
Super cool
150/84 Litre fridge/freezer capacity
Dimensions - Height (174cm) - Width (54.5cm) - Depth (580mm)
Fridge capacity: 150 L
3 Glass shelves
2 Salad crispers
2 Door balcony's
1 Dairy box
Egg tray
Freezer capacity: 84 L
4 Compartments
2 Ice trays
Efficient, organised storage
Tall and sleek the Hotpoint RFAA52P is perfectly sized for your average family. Finished in crisp white with inset handles the Hotpoint has a clean, contemporary look, fitting in to all kitchens seamlessly. Cut down on your endless shopping trips and store more with this spacious fridge freezer.
The fridge section has plenty of storage options on offer for you to organise your shopping and with clear glass shelves you can see everything clearly. Two salad crispers will keep your fresh fruit and veg tastier for longer, locking in freshness. Adjustable shelves and two door balcony's give you the freedom to re-arrange the interior design of your fridge to fit any awkward shopping such as tall bottles and jars.
The freezer has four storage compartments on offer with a slightly larger bottom drawer which is perfect for larger items such as your bags of chips and Yorkshire puds. The drawers are spacious and clear, allowing you to easily check on your food levels and know exactly when it's time to go shopping and top up your freezer supplies.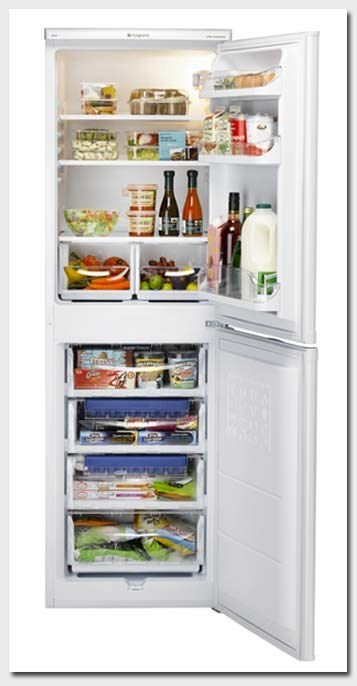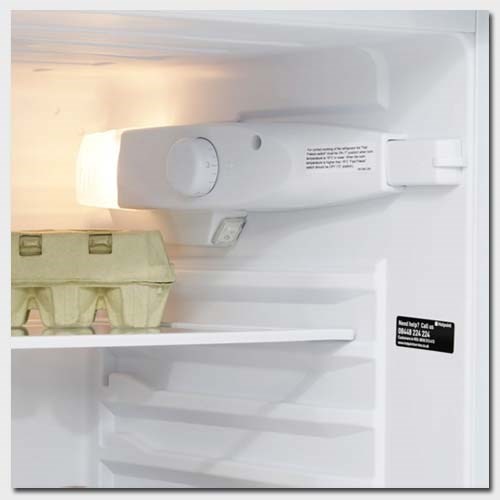 SuperCool
Thanks to SuperCool fridge technology anything you put in the fridge is cooled very quickly which effectively preserves the food in your fridge for longer. Cooling the food quickly ensures a better freshness, quality and flavour.
Effective freezing
With super and quick freeze technology you can flash freeze freshly bought food that is introduced to your freezer. This locks in the delicious tastes and nutrients. Your food can be preserved for much longer than usual. Deep freezing power that is the best method for effectively holding moisture and flavour within your food.
Anti-bacterial protection
Maintain a clean and safe food environment with the help of the anti-bacterial protection. Collecting dust particles and viruses you can't even see to deliver a healthier refrigerator environment and improving food quality.
Emery A+
Proudly rated A+ for energy efficiency you can rest assured you're doing your bit for the environment and also saving on your energy bills.
Features:
Energy A+ rating
Four star freezer rating
Static cooling system
Auto defrost fridge
Quick freeze
Super freeze
Anti-bacterial protection
SuperCool
Reversible door
Annual energy consumption: 256 kWh
Noise level: 44 dB