Product Information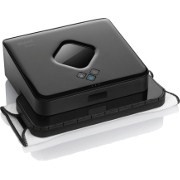 Easy-to-prep Cloths Cleaning cloths are simply to attach and remove thanks to a removable magnetic cleaning pad.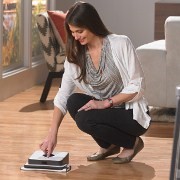 Just Press And Go All you have to do is attached the appropriate cleaning cloth, put Braava on the floor you want to clean and choose a cleaning mode.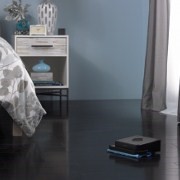 Whisper-quiet Braava produces so little noise you can leave it to run while you sleep or any other time and it won't disrupt you.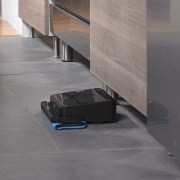 Returns Home After The Job Is Done After it's done cleaning, Braava will go back to where it started and power itself down all on its own.
Braava390T Floor Mopping Robot
Designed to mop the floor efficiently and rapidly the iRobot Braava methodically cleans the whole floor in a single pass. You won't believe how easy it is to use... simply affix the cloth, put Braava on the floor, press the relevant button and watch Braava do all the hard work for you! Or don't watch it and go do something else more important, the choice is yours.
Key Features
Cloths are simple to attach and remove as Braava utilises a removable magnetic cleaning pad
Just press and go
Quiet enough to run when you're asleep
Always returns to where it started and powers down when the job is completed
Can take damp, Swiffer-style cloths or dry microfibre cloths
Works on all hard-surface floors including hardwood, tile, laminate and vinyl
2 Modes - dry sweeping mode or mop mode
Braava can be paused in its tracks and then resumed when convenient without missing a spot as it stores a map of the area
The 'Pro-Clean' system dispenses extra liquid during cleaning to refresh the microfibre cloth as it goes
The square design and navigation system enable the Braava to cover the entire floor, even in to the corners
NorthStar® Navigation System works like an indoor GPS, keeping track of where Braava has been and where it needs to go
Dimensions:
Package Dimensions: 38L X 11.5W X 33H cm
Robot Dimensions: 24.4L X 21.6W X 7.9H cm
Robot Weight: 1.8 kg
What's In the Box?
1 Braava 390t Mopping Robot
NorthStar Navigation Cube and "C" batteries
Multi-Purpose Cleaning Pad
2 Microfibre Dry Mopping Cloths
2 Microfibre Damp Mopping Cloths
Pro-Clean Reservoir Pad
NiMH battery, 2000 mAh
Turbo Charge Cradle
---