Product Information
COMBAT MOULD, CONDENSATION & DAMP
keep your home free from damp and condensation with this ElectriQ 10 Litre Desiccant Dehumidifier. Suitable for medium to large houses up to 3-6 rooms, this easy-to-use dehumidifier is a cost effective solution to combat the effects damp, mould and condensation. It works by extracting excess moisture and humidity in the air that can encourage the growth of common allergens (mould and bacteria) damaging to a person's health and home.
WORKS AT LOW TEMPERTATURES
The DESD10L is a powerful desiccant dehumidifier capable of extracting a massive 10 litres per day regardless of room temperature. Unlike standard compressor dehumidifiers, the DESD10L is not hindered by temperature. This durable and reliable dehumidifier is able to lower humidity levels in conditions close to freezing - making ideal for homes, offices, workshops, garages and even warehouses.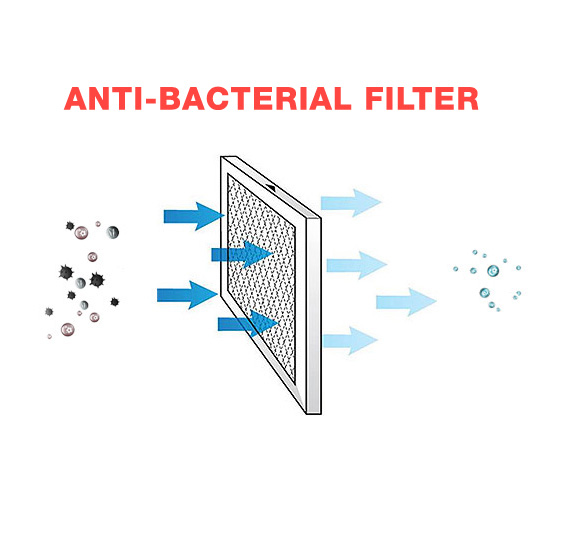 BREATHE A SIGH OF RELIEF
For complete protection, this dehumidifier features an anti-bacterial filter to trap any unwanted bacteria in the air so that you breathe cleaner, fresher air - ideal for those with breathing difficulties or allergies. The filter is washable so you don't have to fork out money on having to replace the filter every couple of months, simply give it a quick rinse with some hot soapy water and use again.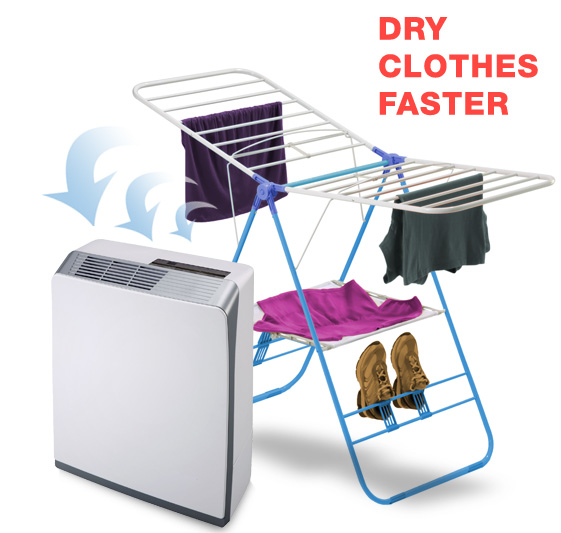 LAUNDRY MODE
If you're finding it difficult to dry laundry outside due to the weather, then you'll be pleased to hear that the DESD10L comes with a handy laundry mode setting that significantly reduces the drying time of damp laundry indoors. This clever little feature will also benefit your heating bills too because you won't have to keep your heating on long to dry your clothes.
Features
Efficient, easy to use, quiet
Up to 10 litre extraction per day capacity at 20% and 70%RH, typical damp home conditions equivalent to a compressor powered dehumidifier rated at 20 litre per day
Space saving 20-30% more compact than alternative compressor models
Desiccant Dehumidifiers are very effective at low temperatures and do not lose their ability to dehumidify effectively
Laundry mode to help clothes drying economically
Environmentally friendly - no compressor, uses desiccant rotor technology = less noise and no refrigerant
Intelligent CPU controlled digital humidistat with 4 humidity settings 40%, 50%, 60%, 70% RH and room humidity display
Digital control panel and digital humidity display with easy to select functions
Heats the air passing through between 5-10°C, making the air dry and warm reducing the heating bills
Side large water tank with easy to carry handle
Antibacterial filter sterilizes the air
Recessed carry handle for portability
Anti-tilt safe design
Technical specifications
Power consumption (W): 470-780
Working temperature 1-32 °C
Built-in heater
Very slim & compact
Timer
No noisy compressor
Quiet and Turbo mode
Water tank capacity: 3.5 litres
Easy to use controls via electronic control panel
Free from harmful gases
Lightweight with carry handles
Safety features: water full indicator & automatic shut-off when tank full
Laundry mode with upward air outlet facilitates clothes drying
1 - 24 hr off timer
2 drainage methods, by detachable water tank or continuous by tube
Washable filter
Carry handle
Dimensions: (W x D x H)
44.50 x 20 x 52.5 cm (net)
Weight:



High
Quality
Manufactured in the same factories as the leading brands.

Great
Value
The UK's lowest prices with no compromise on quality.

Design and Technology
electriQ design high quality products using the latest techology.

Hundreds of Products
An extensive range of products from large appliances to gadgets.