Product Information
What our experts think...

Claire
Product Expert
The colour changing light is a great touch because it's really relaxing, I have it in my daughter's bedroom and it works a treat to get her to sleep. It's so quiet too that I can keep it going through the night with the assurance that she is comfortable and sound asleep.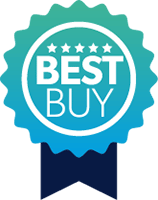 Best Buy
By collaborating with some of the world's greatest brands, we've created specialist Best Buy collections across our most popular product ranges. We will keep them updated, to bring you the best choice, the best price and the best products. And that's a promise.
What stands out
Improves air quality, protects against dry skin and alleviates symptoms of cold, flu and asthma attacks
Uses ultrasonic oscillation to deliver a refreshing cooling mist into the air silently
Doubles as a diffuser – special built-in chamber for your essential or decongestant oils
Touch sensitive control panel to adjust mist settings
Unique ambient lighting feature adds an atmospheric glow to your room
The large 2 litre tank lasts up to 10 hours without the need to re-fill
Automatically switches off when water tank is empty
Lightweight and easily portable from one room to another
The details
Create a comfortable and refreshing environment with this electriQ humidifier. It helps prevent the ill effects of low humidity and dry air caused by the cold weather. The slim design means it can be placed almost anywhere and can be easily moved from one area to another. Maintaining moisture level between 40%-60% in your home and can help in reducing the survival of flu viruses.
With this ultrasonic humidifier, the steam is generated by oscillating the water into a vapour so produces a cool mist that lasts longer in the air for greater effect. It is silent when in use, great if you have a sleeping baby nearby!
The touch sensitive control panel allows you to select one of three refreshing cooling mist levels and the current mode is indicated by the colour of light surrounding it. There's also an LED light that illuminates the water and acts as an ambient night light, it alternates between various colours! There's even the option to turn all the lighting off.
It holds up to 2 litres of water and lasts up to 10 hours so there's no need to keep refilling constantly which is super convenient. Thanks to the clever auto shut-off feature, it'll turn off when it runs out of water, saving energy and prolonging the life of your humidifier.
There's even an integrated aromatherapy function to enable you to add essential oils; simply add a few drops in the special compartment before placing the lid back on and the mist released will soon give comfort for your mind, body and soul, or add decongestant oils and your airways will soon be clear!
Essential info
Dimensions: H32.5 x W14 x D15 cm
Weight: 1.1/1.5 kg
Water tank capacity: 2L
LED indicator: Yes
Mist levels: 3 - High (blue), medium (green) and low (red)
Control panel: Touch sensitive control
Night light: Yes
Rated power: 25-28W
Colour: White
More info
Maximum humidity output of 250ml of water per hour
Continuous use of up to 10 hours
Suitable for small spaces
Small and easy to transport between rooms
User friendly touch sensitive control panel
Separate cavity for essential oils
Option of ambient mood light mode which alternates various colours
Includes a cleaning brush and 3 float valves (1 fitted plus 2 spares)
Rated voltage / frequency: 100-240 V, 50/60 Hz