Product Information
What our experts think...

Lewis
Product Expert
What I really love about this hob is that you simply have to plug it in! Just make sure you cut the right size hole (the cut out dimensions are below), drop it in and plug it in – it couldn't be any easier. There's no need to call an electrician, so you'll save some cash too. It's safer to use too, as it heats your pans rather than the hob surface, so there's less chance of being burnt when it comes to cleaning up.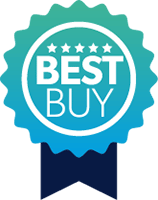 Best Buy
By collaborating with some of the world's greatest brands, we've created specialist Best Buy collections across our most popular product ranges. We will keep them updated, to bring you the best choice, the best price and the best products. And that's a promise.
What stands out
Plug in and go, theres no complicated installation required
Its perfect to be used alongside a full sized hob with any fuel type
Two cooking zones make it ideal for adding extra cooking space to your kitchen
The touch controls give you easy adjustments with nine power levels
Induction technology only heats the bottom of the pan, which means no energy is wasted
The surface doesn't get hot to touch, making it safer to clean
The details
If you're looking for a smaller hob to suit your small kitchen, one to sit alongside your full size hob or one to install into an island, then this electriQ domino hob couldn't be any more suited. There's no fuss when it comes to installation, all you need to do is cut out your niche and plug it in - simple!
This induction hob features two cooking zones which makes it perfect for adding extra cooking space to your setup and can also be installed alongside hobs with different fuel types such as gas.
The touch controls make it easy to switch between the nine power levels while a handy timer alert makes it less likely that you'll burn your dish! As this hob is induction, the surface shouldn't get too hot while you cook, but could become warm to touch through residual heat. Residual heat indicators remind you that the zone is hot, so you're less likely to become injured as you clean. It will remain lit until the hob is safe to touch, so there's even less to worry about.
If you leave the hob turned on for a long period of time, it'll even turn itself off, so you don't have to worry if you realise you didn't shut it down before you went out. A child lock makes sure those mischievous little hands can't turn the hob on while your back is turned, making it great for a family home.
Essential info
Plug and go installation
Number of zones: 2
Hob type: Induction
Controls: Touch
Heat levels: 9
Dimensions: H 62 x W 288 x D 520mm
Cut-out dimensions: W 268 x D 500mm
Cable length: 1m
More info
Great value, efficient domino hob
Plug and go installation
Touch controls
9 heat levels for each zone
Residual heat indicators
Child safety lock
Built-in timer
Auto-shut off
Smooth, easy clean surfaces
3000W electric power
220-240V ~ 50Hz supply voltage
Front zone: 180mm, 1800/2100W
Rear zone: 160mm, 1200/1500W
Total power: 2900W with BS plug