Product Information
What our experts think...

Lewis
Product Expert
This washing machine competes with the bigger brands for a much lower price – what's not to love? The Baby Care function is a real stand out feature, removing harmful bacteria from baby grows, blankets and more, keeping baby healthy for added peace of mind. But I'm really impressed with the Extra Rinse option! It removes any lingering dust or detergent – perfect for anyone with sensitive skin.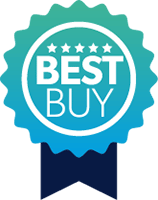 Best Buy
By collaborating with some of the world's greatest brands, we've created specialist Best Buy collections across our most popular product ranges. We will keep them updated, to bring you the best choice, the best price and the best products. And that's a promise.
What stands out
The fully integrated design helps you save space
16 programmes tailor each cycle to your needs
The Baby Care cycle removes any harmful bacteria
7kg capacity – perfect for medium-sized households
The details
If you're running short on floor space in your kitchen, or simply don't want your washing machine on show, then this integrated washing machine from electriQ is the perfect solution for you. A case of out of sight, out of mind when you've got a cycle on the go, you'll be able to keep that sleek, minimalist look in your kitchen while also enjoying brilliant efficiency with every load.
Featuring an impressive 16 programmes, you'll be pleased with the results come laundry day, whatever is waiting to be washed. From Delicate to Sports and Wool to ECO, this washing machine really has everything covered, caring for each and every item. The quick wash function is perfect if you need an item in a hurry, or just want to refresh an item that's been in storage for a while. Taking just 15 minutes, it'll be ready in a flash. The Baby Care function comes in really handy if you've got young children, removing dangerous bacteria from clothes, bibs, blankets and much more. It works by using a high temperature, giving you an extra hygienic wash overall. The Extra Rinse function is ideal for anyone with sensitive skin, removing any lingering dust, dirt or even detergent from each item.
A capacity of 7kg makes this machine a brilliant addition to a medium-sized household. Washing up to an equivalent of around ten towels, it'll help you to get more done throughout laundry day.
Featuring a clear, LED display, you'll easily be able to keep on top of your cycle, displaying information including time remaining. A delay timer of up to 24 hours gives you the ability to time your wash to be ready at a time that suits you, whether that means your load is ready when you get home from work or you want it to begin when energy prices are lower.
Essential info
Dimensions: H 825 x W 595 x D 540mm
Capacity: 7kg
Programmes: 16
Max spin speed: 1400rpm
Delay timer: Up to 24 hours
Warranty: 1 year
Programmes
Cotton intensive, Cotton 60°, Cotton 40°, Cotton 20°, Quick 15, ECO wash, Rinse & Spin, Baby care, Sports, Synthetic, Mixed, Delicate, Wool, Drain only, Spin only, My cycle
More info
Integrated washing machine
LED display with button and dial controls
24-hour delay timer
Child lock
Colour: White
Water supply: Cold water fill
Wash noise level: 57dB
Spin noise level: 76dB
Wash performance: A
Spin performance: B
Annual water consumption: 10,000L
Power cord length: 1.5m
Water inlet hose length: 1m
Water outlet hose length: 1.6m