Product Information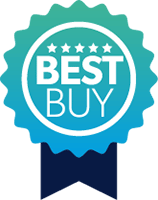 Best Buy
By collaborating with some of the world's greatest brands, we've created specialist Best Buy collections across our most popular product ranges. We will keep them updated, to bring you the best choice, the best price and the best products. And that's a promise.
What stands out
Ultra slim paintable panel heater with smart app and endless customisation
Control at any time and from anywhere using the Wifi smart app
500 Watts and adjustable thermostat control to gain more control
Use the 24h Timer and the smart weekly timer to set the heat to turn on & off
Control with ease via Alexa and Google Home voice control
Highly reliable - No moving parts, pipes or pumps required
Save money on those energy bills with the smart WiFi advanced energy saving design
Ultra-fast warm up, cool touch edge and overheat protection with child lock function
The details
This designer Ultraslim Paintable heater is a sleek, stylish and space-saving alternative to traditional form forms of heaters. Your heater does not have to be boring again. Cleverly designed, the heater can be both wall mounted and freestanding. It can be installed very close to the wall, taking up very little room space. Theres no moving parts or pipework required, just an electricity supply, making it more reliable and less likely to break.
What's really impressive though it that you can take control of all the heater functions from anywhere, at any time, using your smartphone. Simply connect the heater to your home WiFi, download the app on your smartphone and away you go. This has been implemented for your ease, convenience and to help you be more energy efficient, heat up your room minutes before you arrive home!
The advanced energy efficient design, thermostatic controls, 24 hours and weekly smart WiFI timer and precise digital controls have all been put in place provide more efficiency and help you save money on those energy bills.
Essential info
Wattage: 550W
Dimensions: H600mm x W800mm x D10mm(without legs)/246mm(with legs)
Weight: 8kg
Features
Controls: Digital
Display: LCD Display
WiFi Enabled
Free Standing feed supplied