Product Information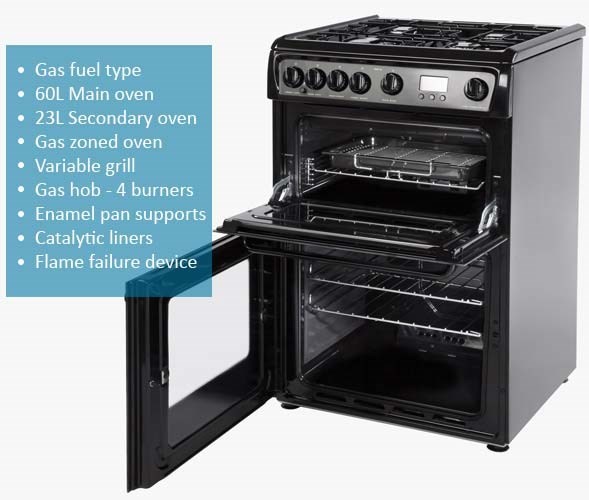 The Hotpoint HAG60K 60cm wide black gas cooker is equipped with two gas ovens and a gas hob, giving you space and flexibility to cook up a feast. Finished in stylish black this cooker will be a stand out feature in all kitchens.
Spacious, flexible cooking
The four burner hob (2x 2.0, 2x 3.0 kW) has enamel pan supports and an automatic ignition with a flame failure device, giving you peace of mind.
The main oven is gas zoned which provides you with different temperatures, allowing you to effectively cook different dishes at once. The central oven shelfs temperature will be defined by the gas mark you select, whilst the lower shelf will be a mark lower and the top shelf will be a mark higher. The top oven can be used as a gas oven providing more cooking space alongside the main oven or as a gas grill.
With a main oven capacity of 60 litres there's more than enough space for you to cook a full roast dinner and with the secondary oven having a 23 litre capacity you could also cook your pudding whilst the roast is cooking in the oven below.
Functionality
With a main oven light you can easily check on your dishes without opening the oven door, opening the oven door whilst your dishes are cooking allows heat to escape and if you're cooking something a bit more delicate such as baking a cake this could affect the end result.
The electronic timer/minute minder enables you to leave the kitchen whilst cooking and allow the timer to tell you when it's time for your dishes to come out. With the flame supervision device that automatically cuts off the gas if the flame goes out to prevent dangerous gas leaks you can rest at ease.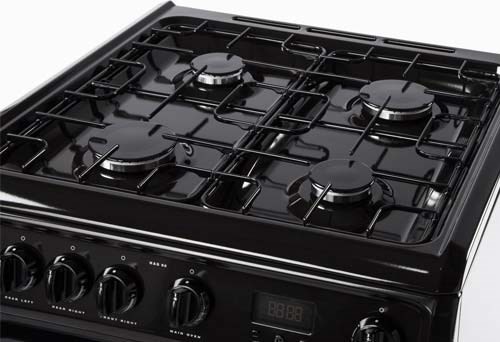 Easy clean
Both the main and secondary oven have catalytic liners which will make cleaning your oven easier. The catalytic liners use the heat of the oven to break down the fat and grease, reducing your time spent on cleaning. The oven doors have removable inner glass, allowing you to easily maintain pristine windows to your culinary creations.
Features:
Black finish
Fuel type: Gas
Gas zoned oven
Variable grill
Oven capacity: 60 L
Secondary oven capacity: 23 L
Flame failure safety device
Burner power: 2x 2.0, 2x 3.0 kW
Enamel pan supports
Oven light
Catalytic liners
Electronic clock/Minute minder
---