Product Information
The black built in microwave oven from Bosch has a frameless design that's made to be fitted into a tall kitchen unit. With a 25 litre stainless steel interior and a 315mm turntable diameter, it also comes with 7 auto- programmes, including 4 defrost programmes that give you convenient cooking flexibility.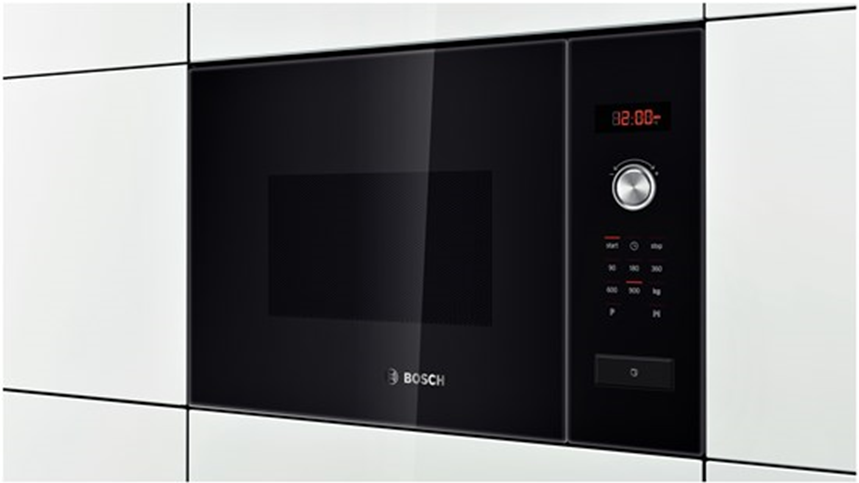 Ideal for compact kitchens
This microwave is a built in appliance, which means it's designed to be built into a tall housing kitchen unit for a seamless and streamlined look. Because it needs to be installed into a kitchen unit at eye-level, please measure the dimensions carefully to make sure it will fit:
Dimensions:(H) 382mm x (W) 594mm x (D) 388mm
It has a power level to suit different meals
A lot of microwavable meals come with instructions that are only suitable for one power level, so rather than guessing how long the food needs to cook for, this Bosch microwave boasts 5 power levels so you can programme cooking times effortlessly.
900W
600W
360W
180W
90W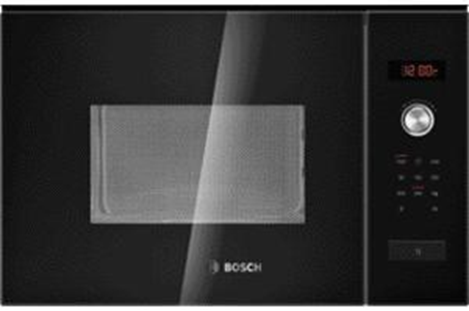 It takes charge of the cooking
Take the backseat on your cooking with this microwave's 7 pre-set automatic programmes. Simply select the programme and enter the weight of your food and let the automatic programme do the rest for you.
This microwave also comes with a viewing window and interior light so you can see how your cooking is progressing.
Easy to use
This Bosch built in microwave comes with an electronic clock timer and controls that are user-friendly and effortless to use. With easy to read font on the push buttons and a distinct silver retractable control dial, this microwave makes it easy to get a meal underway quicker.
It remembers your favourite dish
With 1 memory function, this microwave allows you to save the settings for a certain dish in the memory and call it up again at any time. The memory is useful if you prepare or reheat a specific meal or dish frequently.

Built in microwave
5 power levels
7 pre-set automatic programmes
Easy to use electronic controls
1 memory function
---