Product Information
The smart black Indesit cooker with a 4 zone hob is easy to use and uses efficient heating technology to ensure you get cooker underway and completed quicker. With a top oven with grill and main oven that have a shared capacity of 100 litres, you won't have any problem in making a hearty family dinner or a quick snack.
4-zone ceramic hob
This ceramic hob performs smartly and looks smart. Each hob zone has 6 power so you can get a more precise temperature.
The ceramic glass is easy to clean to that you won't worry as much about food splatters.
Easy to operate
The black chassis has a minimal appearance and clear white graphics so you can easily understand and operate the hob and two electric ovens.
With a combination of push button and knob controls, controlling the temperature and setting the LED clock and minute minder will be effortless.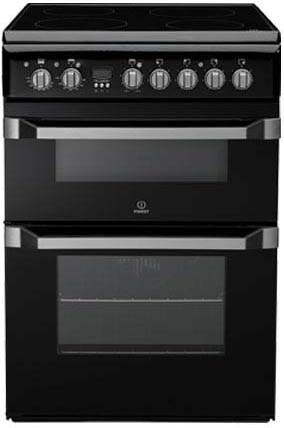 Top oven with Grill
Being both a conventional oven and a twin variable grill makes this top oven a very versatile cooking space. With 35 litres capacity, the top oven will prove a valuable space for cooking larger meals, keeping food warm or grilling a healthy snack.
Main oven
The main oven has a 65 litre capacity that's ready to tackle the family dinners. This is a fan oven so the hot air is circulated around the food, giving you quicker and evenly cooked results.
Dimensions: (H) 90cm x (W) 60cm x (D) 60cm
Energy information
This oven needs a 47amp supply and is designed to be connected to a double pole switch to connect it to your electricity supply. Please make sure that your electricity supply corresponds with the voltage for this oven (230-240V)
Top oven energy consumption: 0.99kWh
Main oven energy consumption: 1.19kWh
Energy efficiency ratings: B/B
Electric cooker with ceramic hob
100 litres capacity
Main fan oven
Conventional top oven with grill
Easy to use controls
---