Product Information
With the latest design and technological innovations straight from Smeg, this modern and stylish gas hob will help you safely and quickly deliver fantastic cooking results, as well as becoming a statement piece of the kitchen!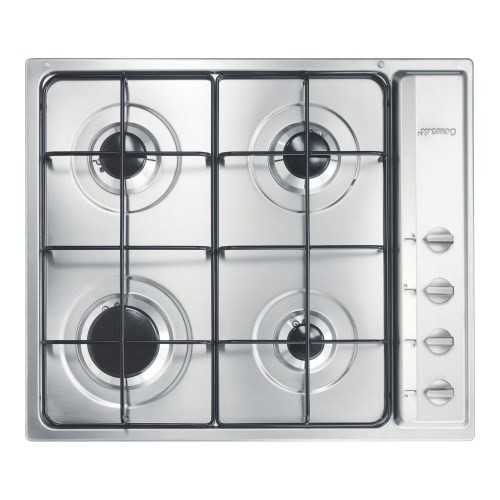 Dimensions: H58 x W50 x D30cm
Turn the temperature up:
With an automatic electronic ignition, you can get this hob started up within seconds!
The four burners come in three useful sizes – perfect for different dishes and different sized pans, preparing you for any occasion and new recipes!
If you decide to go more eco-friendly or have already made the switch, it is possible to have this hob adapted to LPG gas to suit your cooking style!
Keeps you safe:
If the flame shuts down on one of your burners, this Smeg hob has safety valves on each burner that can stop the gas supply to the burner, making sure that the gas isn't left running and spreading around the kitchen.
Innovative design:
With the addition of the new style Cucina controls, this hob will give any kitchen a modern boost, or accentuate an already contemporary kitchen!
The smooth stainless steel complements the black enamelled pan stands and black burner caps for a pro chef look, giving you a hob that will boost your culinary confidence as well as you kitchen!
4 burner gas hob
Safety valves
Automatic electronic ignition
Can be adapted to LPG gas
New Cucina silver controls