Product Information

Be more in control of your laundry with the Smeg washer dryer. Fitting into your home seamlessly with its easy to use integrated design. Washing and drying, this compact appliance makes light work of laundry day. With a large porthole it's easier to load than your standard washing machine and offers excellent functionality with 15 programmes and the freedom to customise these programmes to suit your wash.
7KG WASH, 4KG DRY
The Smeg washer dryer features a 7kg washing capacity, making it ideal for couples and small families. When it comes to drying the load capacity shrinks to 4kg, enabling the garments to move around effectively during the drying process.
24 HOUR TIMER DELAY
Set the machine up to wash when best suits you. Wash at night when energy costs are lower or set the timer to wash and finish when you know you'll be around to unload it, this way you can avoid creases incurring as the washing won't be sat waiting.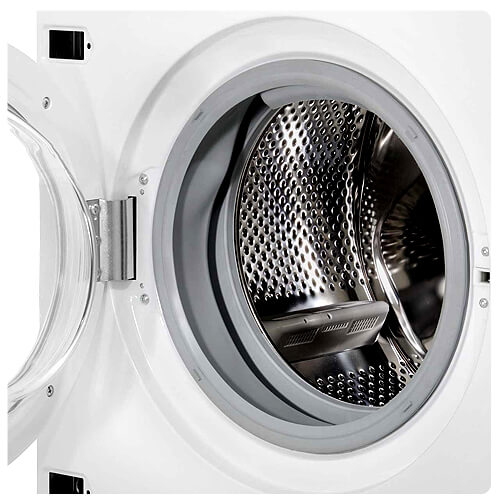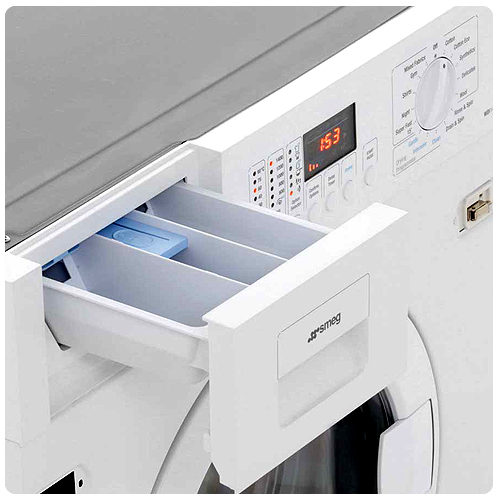 EASY TO USE
The Smeg washer dryer is simple and easy to navigate. With a clear LED screen you can easily check the settings and progress of your wash, see exactly how long is left on a cycle.
PROGRAMME VARIETY
There are 15 programmes to select from with the Smeg washer dryer, you're sure to find one to perfectly suit your laundry. From the 'intensive' cycle which vigorously agitates the laundry to remove stubborn stains to the 'silk wash' programme which uses lower temperatures and a slower spin speed to prevent delicate fabrics from becoming stretched or damaged.
SPEEDY 15
Wash your clothes in as little as 15 minutes! Ideal for lightly soiled garments and smaller loads.
CUSTOMISE OPTIONS
Modify the programmes to best cater to your fabrics. With variable spin you can adjust the speed of the washing machines spin, ideal for more delicate items. Variable temperature allows you to adjust the temperature of the wash, delicate items need lower temperatures where as whites often need higher temperatures.
ENERGY EFFICIENT
The Smeg washer dryer has fuzzy logic technology, this monitors the load inside the washer and adjusts settings to deliver the best wash possible, whilst using as little water and energy as possible. Settings adjusted include; water intake, water temperature, wash time, rinse performance and spin speed.
Don't waste water and energy on a small load, thanks to the half-load function the cycle can be altered to suit smaller loads, saving energy and water whilst still delivering a thorough clean.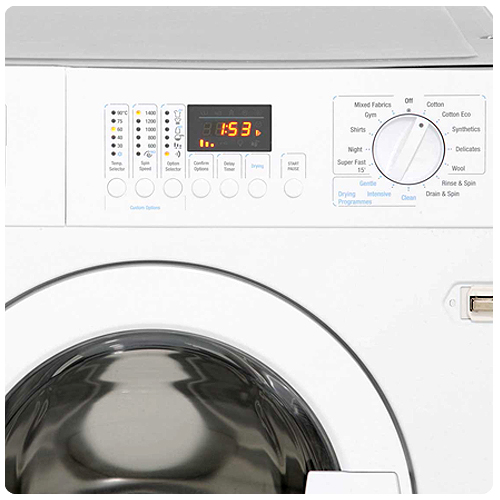 Features:
Electronic display panel with 24 hour delay timer
7 buttons: start/pause, drying, delay timer, confirm options, options selector, spin speed, temperature selector
On/off & programme control
Door opening release
Self-cleaning feature
Electronic display shows programme selected and progression
12 Washing programmes including: Special programmes; mixed fabrics, gym, shirts, night, super fast 15'
Customised options; variable temperature, spin speed, and option selector including FlexiTime
6 automatic drying programmes
Variable spin speed up to 1400 rpm
Max washing capacity: 7 kg dry laundry
Max drying capacity: 4 kg
Condenser drying
Stainless steel drum and polypropylene tank
Self cleaning detergent drawer
Extra large 300 mm porthole
Automatic variable load
Rear levelling feet adjustable from the front
Total aquastop
Energy efficiency class: A
Washing performance: A
Dimensions (HxWxD) - 820mm x 596mm x 560mm