Product Information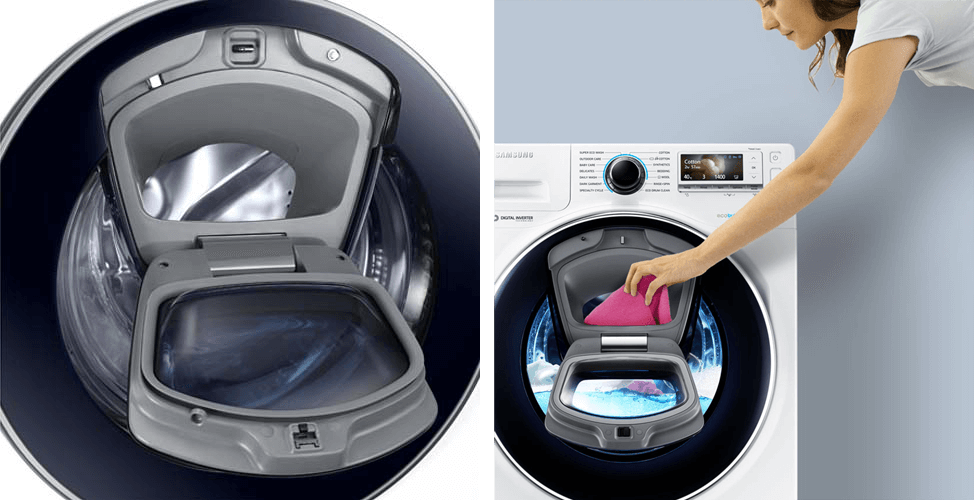 ADD WASH
Thanks to Samsung you can now add to the wash during the wash!
Featuring an extra door at the top of the main door that you can actually open mid-wash without any water or suds escaping.
NOTHING GETS MISSED
We all have the elusive sock that's missed the wash, a forgotten garment you planned to wear tomorrow or a new stain on your current outfit that you wish you'd caught before you pressed start on the washing machine. With the Samsung AddWash nothing will be missed, you can even fit towels through this practical little door.
FORGOTTEN DETERGENT?
With the Samsung AddWash it won't be a wasted wash and you won't need to wait for the cycle to finish to add the forgotten detergent. This nifty extra door comes in very handy!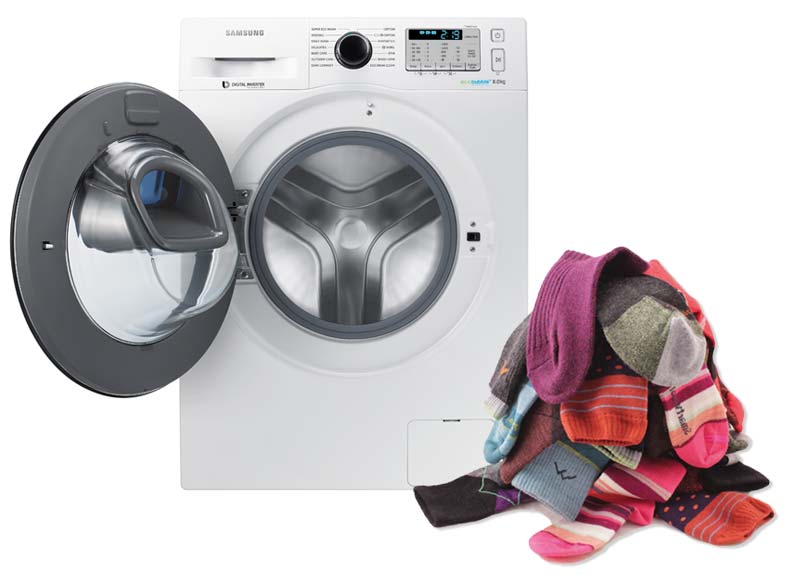 RINSE ONLY
With delicate garments and clothes that simply need a refresh you can now wait until the washing machine reaches the rinse stage and add those delicates in via this practical extra door. This way the clothes get the gentle, thorough rinse they need without being inside for the whole cycle.
With the Diamond drum clothes glide around effortlessly, thanks to the unique design intended to protect and cushion clothes.
SUPER SAFE
The AddWash door triple locks, there's no need to worry about mischievous little hands messing with the door or throwing items inside.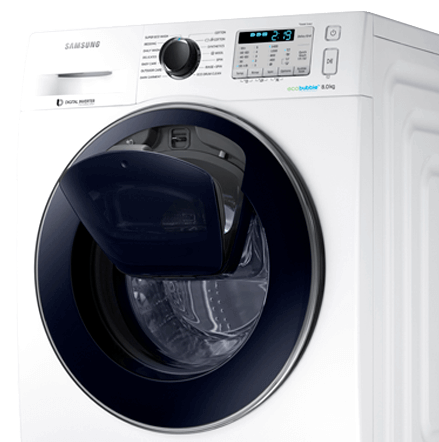 ECOBUBBLE TECHNOLOGY
Ecobubble delivers deep, gentle, more effective cleaning. The Ecobubble technology pre-mixes the detergent in water before lifting powerful cleaning bubbles into your wash, great for stains. Add a 30 minute bubble soak to any of your preferred programmes. Cold water can also be used making this washing machine more energy efficient!
POWERFUL CLEANING
With a twin water supply the washing machine fills faster, and a clever spin speed rinse accelerates your cycle. A standard 5kg washing load (roughly 25 t-shirts) can be complete in just 59 minutes.
Features:
Which? Best Buy Washing Machine June 2017
7kg Capacity
1400 rpm spin speed
ecoBubble
AddWash
Intensive stain removal using bubble soak technology
Digital inverter motor for long lasting energy efficiency and minimal noise
Diamond drum, washing glides around smoothly
Fabric care for your favourite clothes
15' Quick wash
Ice blue LED display
Smart Check
Up to 19 hours delay start
---