Product Information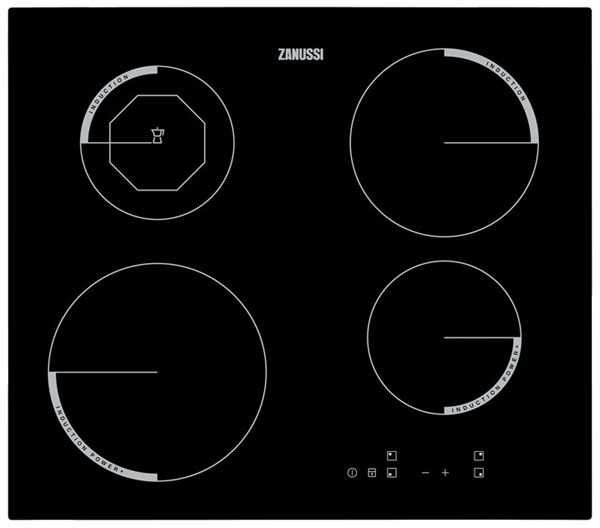 Offering a stylish design, effective features and an extremely easy installation, the Zanussi ZEI6840FBA built-in induction hob is the ideal solution to any kitchen, helping to improve cooking efficiency from its first use.
Easy to reach touch controls, an easy clean design and a number of safety features provide added peace of mind while using this hob. Induction technology heats the pan and not the hob, adding an extra level of safety overall.
QUICK AND EASY INSTALLATION
Plug and Cook installation takes any stress or hard work out of installing this hob in your kitchen. With no hardwiring required, once the ZEI6840FBA is in place, simply plug it in and you are ready to go. A hassle free way to get cooking, there's no need to call a professional and you'll be cooking in no time.
INTUITIVE CONTROLS
The touch controls give you the ability to make precise and immediate adjustments to the heat levels of each cooking zone so you can produce the best results. With 15 individual levels, finding the perfect heat intensity is easy, ensuring every dish you prepare is of the highest quality.
ADDED FEATURES
With four spacious cooking zones, you can easily prepare numerous dishes at once, utilising the entire hob. After dinner, you can even enjoy a delicious and authentic Italian coffee thanks to Zanussi's integrated zone designed to suit moka style coffee pots.
PEACE OF MIND
There's less to worry about with the Zanussi ZEI6840FBA's handy safety features, keeping you and your family safe while you cook.
To prevent any little fingers playing with the controls, or simply to avoid any accidental changes in temperature, the child lock locks the controls while you cook to ensure food does not become overcooked.
Although the hob does not get truly hot itself, the surface can become hot via the residual heat from your pans. To prevent any burns or accidents, residual heat indicators stay lit until the surface cools and is safe to touch, ready for cleaning.
EASY TO CLEAN
We all get splashes on our hob when cooking, often spilling dishes as we stir. The Zanussi ZEI6840FBA makes cleaning any of these quick and easy. There's less chance of food burning to the surface as it doesn't get truly hot while the ultra-smooth finish makes wiping any spills away really easy. Frameless and free of any buttons or dials, there is nowhere for dirt and grease to accumulate, making cleaning a quicker job.
FEATURES
Electronic touch controls
Instant response
Timer with auto switch off
Wipe clean ceramic surface
9 Power levels
4 Induction zones
Automatic heat up
Booster setting
Residual heat indicators
Child safety control lock
Auto safety switch off
99 Minute timer with acoustic signal
Frameless