Integrated Fridge Freezers

Find out more about the hinges on Integrated Fridge Freezers. See what our Buying Guide says.

Top tips when measuring for an Integrated Fridge Freezer: View our Measuring Up Guide.
Fixed/Door-on-door
A fixed/door-on-door fitting means that the cabinet door is attached and fixed to the fridge door, as shown below left.
There is then just one set of strong hinges used to support the combined door unit, as shown below right.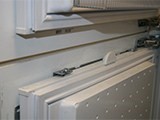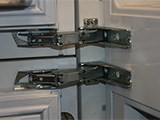 Sliding Door
With a sliding door there is a rail across the inside of the cabinet door, which the fridge door sits in. As the door is opened, the fridge door slides along this rail (below left). This mechanism uses two sets of hinges: one for the furniture door and a separate one for the fridge door, as shown below right.