Product Information
Belling BI 60E PYR Stainless Steel Electric Built-in Single Oven With Pyrolytic Cleaning
Key Features
Multifunction electric oven with grill
Pyrolytic cleaning function
Touch control timer
2 Oven shelves
5 Positions
Functions: Grill, fanned grill, conventional electric oven, fanned oven, defrost, intensive bake (top, bottom, fan)

Belling BI 60E PYR Stainless Steel Electric Built-in Single Oven With Pyrolytic Cleaning

Key Features

Multifunction electric oven with grill
Pyrolytic cleaning function
Touch control timer
2 Oven shelves
5 Positions
Functions: Grill, fanned grill, conventional electric oven, fanned oven, defrost, intensive bake (top, bottom, fan), base heat only, base heat with fan, top heat only
Standard grill pan and trivet
Made in Britain
Energy rating: A

Multifunction Ovens

Giving you flexibility and freedom to cook a wide variety of foods. Find out more here.

A Fully Programmable Timer...

A useful guide on how to use the timer. Make cooking so much simpler - and save yourself time.

Open Door Grilling

Open door grilling on a conventional grill allows the air to circulate; giving you the best results every time.

A Guide to Fanned Ovens

Find out the benefits of fanned ovens, and unlock the potential.

Multifunction two-shelf electric oven with grill pan and trivet
Intuitive touch control timer
Ten oven modes for total control: grill, fanned grill, conventional oven, fanned oven, defrost, intensive bake, base heat, fanned base heat, top heat only, pyrolytic self-cleaning.
Safety lock door cannot be opened during or after a cleaning cycle until the oven cools to a safe temperature.
Catalytic filter to reduce odours
Four-layer glass door keeps the exterior cool even at the highest temperatures.
Easy to operate pyrolytic cleaning with a choice of cleaning cycle times

SIMPLER
Effortless pyrolytic cleaning at the touch of a button, with a choice of 3 program cycles. Dry ash can simply be wiped away!
BETTER
Cleanliness without hazardous or unpleasant chemicals. Great cooking instead of grime management!

, base heat only, base heat with fan, top heat only
Standard grill pan and trivet
Made in Britain
Energy rating: A
Multifunction Ovens
Giving you flexibility and freedom to cook a wide variety of foods. Find out more here.
A Fully Programmable Timer...
A useful guide on how to use the timer. Make cooking so much simpler - and save yourself time.
Open Door Grilling
Open door grilling on a conventional grill allows the air to circulate; giving you the best results every time.
A Guide to Fanned Ovens
Find out the benefits of fanned ovens, and unlock the potential.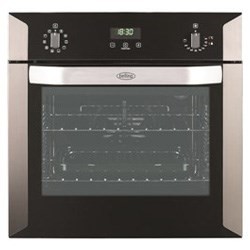 Multifunction two-shelf electric oven with grill pan and trivet
Intuitive touch control timer
Ten oven modes for total control: grill, fanned grill, conventional oven, fanned oven, defrost, intensive bake, base heat, fanned base heat, top heat only, pyrolytic self-cleaning.
Safety lock door cannot be opened during or after a cleaning cycle until the oven cools to a safe temperature.
Catalytic filter to reduce odours
Four-layer glass door keeps the exterior cool even at the highest temperatures.
Easy to operate pyrolytic cleaning with a choice of cleaning cycle times
SIMPLER
Effortless pyrolytic cleaning at the touch of a button, with a choice of 3 program cycles. Dry ash can simply be wiped away!
BETTER
Cleanliness without hazardous or unpleasant chemicals. Great cooking instead of grime management!