Product Information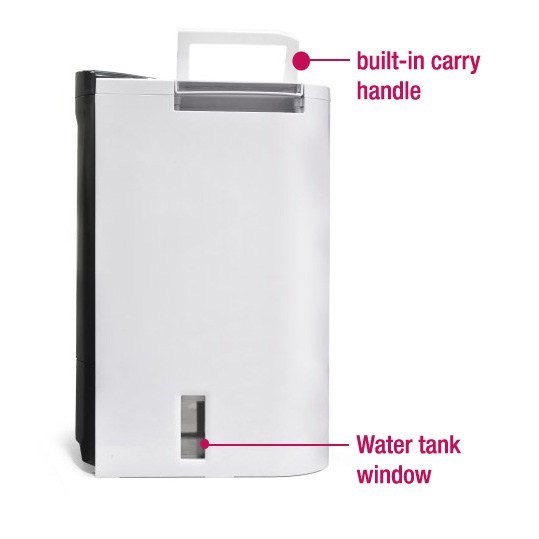 Having tried and tested all our dehumidifiers we must say that this one not only looks great but is great value too; the clean lines and contemporary design ensure that it doesnt look out of place in any modern enviroment. It is the slimmest, quietest and most reliable 8 litre dessicant on the market. The Amcor 8 litres desiccant is also much lighter than a compressor dehumidifier, weighting only 6.5kg, meaning it can easily be moved from room to room via the built-in carry handle.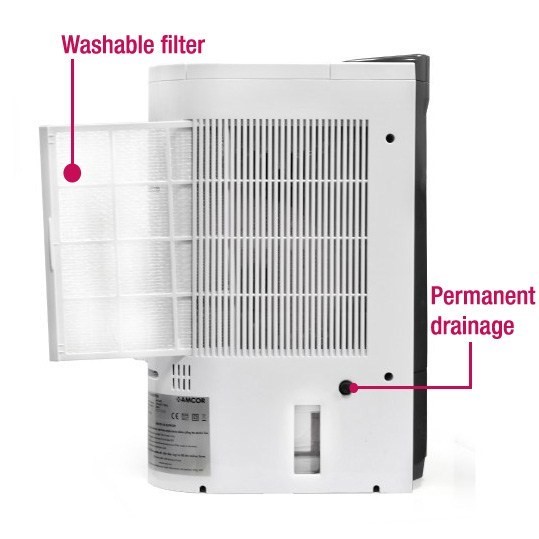 As well as clearing the air of excess moisture, this dehumidifier helps to purify and clean it too thanks to the antibacterial washable filter and ioniser. There is also the option for permanent drainage so that you dont need to manually empty the tank. Being a desiccant dehumidifier means that it is able to continue functioning at temperatures close to freezing. This makes it a perfect option for use in out buildings or unheated areas such as garages, cellars and caravans.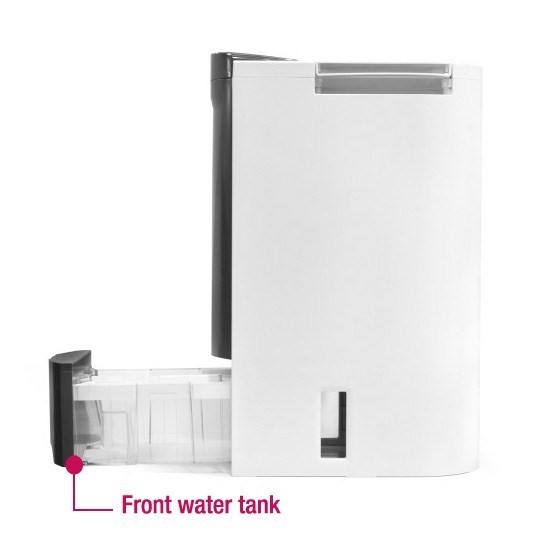 The water tank is large enough to hold up to 2 litres of water making it suitable for a few days of operation without needing to be emptied. The new Amcor desiccant dehumidifier logic ensures maximum water extraction with minimum power use. The water tank is cleverly positioned at the front of the dehumidifier for quick and easy access. This dehumidifier can also be wall mounted with a specially designed optional wall bracket (sold separately).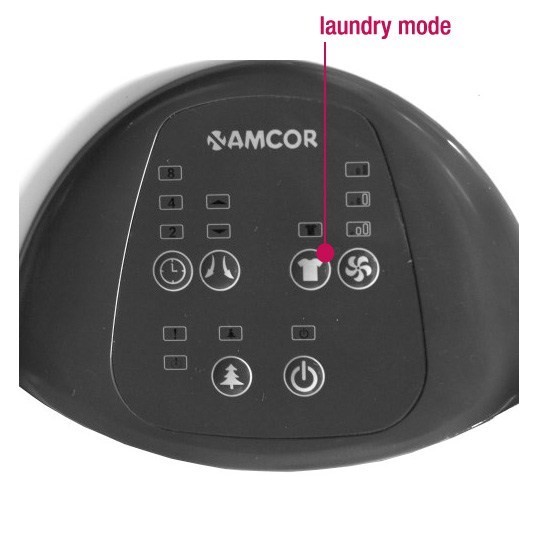 A useful features is the laundry mode - when drying clothes indoors, using this feature will quickly and efficiently remove moisture from your clothes and have them dry in no time. As this product dries your clothes it also prevents the moisture from seeping into your walls which can damage plaster and cause wrinkling or bubbling wallpaper. Laundry mode uses only 290W of power which is significantly lower than the average 430W found with most desiccant dehumidifiers.
Key Features
Ideal for all houses up to 5 bedrooms
Perfect for garages, cellars, holiday homes, boats and caravans
Heats rooms while it removes moisture
Quieter than many dehumidifiers
Humidistat to automatically control
Power saving laundry mode
Anti-bacterial filters and Ioniser
Extraction rate not affected by low temperatures
Strong build perfect for use in offices and even warehouses or workshops
Wall mountable (see optional AMDD8L-BKT)
Auto restart on power off (ideal for caravans, boats and unocuppied properties)
Antibacterial washable PET Air Filter
Option for continuous drainage
Dehumidifying capacity: 8 litres per day (at all temperatures)
Electronic Touch Control panel
Humidistat with 4 set settings ( 40%, 50%, 60%, 70% RH) including laundry mode
Intelligent dehumidification and power saving logic
Ioniser on/off
Three Fan Speeds
Anti-tilt protection
Auto-restart on power off
Contemporary design
Directional Swinging Louvers with 3 settings
1.2 meters drain pipe supplied as standard
1 Year Warranty
Technical information
Water container capacity 2 litres
Stopping timer: 2/4/8 hrs and continuous mode
Noise rating: 36 dBA
Operating range: 1 – 35C
Special power saving laundry mode
Power supply 220-240V/50Hz
Power consumption 320/430/630 W / Laundry: 290 W
Current: max 2.8 A (1.2 / 1.7 / 2.8) / Laundry: 1 A
Dimensions
W x H x D: 170 x 550 x 330mm
Weight: 6.4Kg