Product Information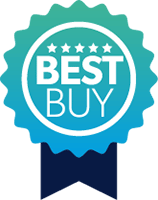 Best Buy
By collaborating with some of the world's greatest brands, we've created specialist Best Buy collections across our most popular product ranges. We will keep them updated, to bring you the best choice, the best price and the best products. And that's a promise.
What stands out
Select your desired humidity level to suit your home
Set it automatically switch on/off at a set time
Extracts up to 20 litres of water per day
Automatically switches off when the water tank is full
Carry handle so you can easily move the unit around
The details
This compact yet powerful 20L Dehumidifier helps create a healthier and more comfortable environment for medium sized rooms. It removes excess moisture and humidity that can encourage the growth of common allergens, which can be damaging to your home and health. If the humidity is too high then your home is at risk of mould, but if its too low then airborne viruses like flu can survive longer. Thankfully, the CD20L allows you to select your desired humidity level so you can find the perfect balance between high and low that best suits your home.
Once the water tank has reached its full capacity, the unit will automatically stop running to avoid any overflowing. A full water light will than appear to indicate that the tank needs emptying. The CD20L can also be set up for continuous draining by connecting a hose into the drain outlet at the back.
The dehumidifier is perfect for using at night when sleeping, thanks to its low noise level. There's also a timer function that can be set to automatically switch on/off at a convenient time - so you can have it run while you're sleeping, at work, or at an off peak electricity period to further reduce operating costs.
Essential info
Energy efficient, great for up to 3 bed houses
Cost effective way to combat mould, unpleasant smells and condensation and damp
Power saving humidistat with intelligent logic to save even more
Quiet fan operation ensures the right balance between low noise operation and maximum dehumidification
Digital backlit LCD display showing current Humidity
Lightweight, portable deign
Strong build, contemporary design, easy to use
24 hours start / stop timer
Tank full alarm & auto-stop function
Auto defrost
More info
Extraction rate 20 litres per day*
Intelligent CPU controlled digital humidistat with 30-80% RH and room humidity display
Air Flow (nominal): 150m3/hr
Tank operation or Permanent drainage option
Max noise level 42 dB(A)
Power: 280 watts
5 Litre tank capacity
Dimensions: W x H x D: 276 x 480 x 185mm
Net/Gross Weight: 9.5/10.2Kgs
To keep the air in your home even cleaner, you can also get a carbon filter that helps remove sediments, odours and more from the air. Get yours here.