Product Information
Ideal for people who are tired of doing endless ironing, this vented tumble dryer has focused on making your laundry day as easy as possible. With features focused on reducing the amount of creases in the load, you can rest assured that not only will your clothes be dry, but they won't require much ironing either!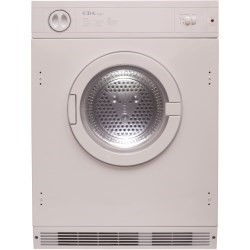 Dimensions: 820-850mm(H) x 596mm(W) x 545mm(D)
Capacity
This tumble dryer can hold a 7kg load, which is more than enough for a few towels, bed linen or the standard weekly laundry. This tumble dryer is automatic so you won't need to worry about drying times for each individual load.
Programmes
CDA understands that not every load of laundry is the same, so they have provided their integrated washing machine with 8 handy programmes, so you can precisely control the type of care for each load:
- Extra dry
- Cupboard dry
- Mild dry
- Extra iron dry
- Iron dry
- Damp dry
- Timed dry
- 30 minute airing
How will this fit in my kitchen?
This integrated tumble dryer is designed to fit into one of your kitchen units and hide away behind one of your own matching unit doors. The dryer door is reversible so you can install the dryer in the place that best suits your kitchen.
The air vent at the front of the dryer must never be covered or blocked in any way, as this will affect the performance and could cause it to overheat. Therefore, there plinth in front of the dryer must be cut out to accommodate the air vent grill located at the bottom front of the tumble dyer:

A vent hose is included, and can extend to 2.4 metres. We strongly recommend that this is vented through the wall with the attachment provided.
Features
Anti-crease function
When lit constantly, the light indicates that the drying cycle is completed and clothes can be removed. To reduce creasing of clothes, anti-crease will automatically start once the drying cycle is complete, rotating the drum briefly every six minutes until the dryer is stopped or the door is opened
Reversible drum action
The drum will rotate clockwise and anticlockwise during the programme alternately to reduce creasing.
Drying sensor
The cycle stops once the sensor has detected your clothes are dry. Not only is this environmentally friendly, but it also helps you save money on your household bills!
2 Heat settings
Different loads require different heats, so you can choose between 2 different heat settings, including high and gentle settings.
12 minute cool down period
At the end of the cycle, the dryer will automatically start the 12 minute cool down period, to minimise creasing and prevent damage to the clothing.
Key Features:
7kg Loading Capacity- Ideal for medium sized households
Quiet drying with just a 62dB noise level - Great for open plan home
C Energy efficiency rating
Reversible drum action to reduce creases & save time on ironing
8 programmes & 2 Heat settings; Includes Iron Dry/ Timed Dry/ Extra Dry
Sensor Drying technology to prevent wasted energy & save money for efficiency
2 years labour/ 5 years parts labour for guaranteed quality & performance
Dimensions: 820mm-850mm(H) x 596mm(W) x 545mm(D)
Additional Information:
Reversible door
Airing programme
12 minute cool down period
Technical Information:
UK Plug
Power supply required: 13A
Rated electrical power: 2kW
NOTE: The Vent Hose Connects at the back of the appliance