Product Information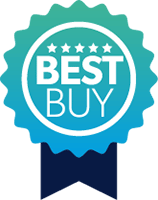 Best Buy
By collaborating with some of the world's greatest brands, we've created specialist Best Buy collections across our most popular product ranges. We will keep them updated, to bring you the best choice, the best price and the best products. And that's a promise.
What stands out
Ultraslim oil filled radiator only 6 cm thick - free standing or wall-mountable using the supplied brackets; can be safely installed out of reach of pets or children
Eco Design only 800 Watts with adjustable thermostat controls and window open detection to achieve the perfect temperature
IP22 – The water resistant design makes it great for any room including bathrooms
Option of 24 hours or weekly timer to set the heat to turn on & off at a time that suits you
Highly reliable while achieving the same look and function as central heating water radiators while cheaper to install - no pipes or pumps required, meaning also there is less to go wrong
Save money on those energy bills with the advanced energy saving design
Child lock safety option
Quiet in operation
Handy anti-frost function great for flats/ caravans and holiday homes
The details
This ultra slim oil filled panel radiator can be both wall-mounted or portable by using the supplied stand. Its IP22 water-resistant allows it be used in many spaces including bathrooms. The advanced energy efficient design, weekly timer and precise digital controls have all been put in place to provide more efficiency and help you save money on those energy bills. There's no pipework required, just an electricity supply, making it reliable and cheap to maintain.
Essential info
Maximum wattage: 800W
IP Rating: IP22
Dimensions: H550mm x W950mm x D60mm(without legs)/250mm(with legs)
Weight: 8.15kg
Digital LCD Display
Thermostatic controls
24 hrs and Weekly timer
Window open detection