Product Information
Fridge net capacity: 154 L
Freezer capacity: 90 L
Keep your kitchen look streamlined with the Matrix MFC501 50-50 Integrated fridge freezer. Designed to fit neatly within a column in your kitchen, concealed behind a cabinet door.
This fridge freezer offers 50/50 storage between the fridge and the freezer. The design is simple yet spacious, offering you plenty of room to keep your shopping organised. With reversible doors you can adjust the design to suit your space.
The fridge compartment of the Matrix MFC501 can hold up to 154 litres worth of food. There are three shelves and a half depth shelf which have multiple height adjustments for you to fit the design around your food products. The bottom of the fridge holds two salad crispers, perfect for locking in the freshness of your fruit and veg and prolonging their life span. The fridge door houses three balconies, each a different height to optimise the storage space.
The freezer compartment has a capacity of 90 litres. There are three drawers with a larger fourth drawer at the bottom, this is ideal for larger frozen items such as your frozen bag of chips or Yorkshire puddings. As the drawers are clear you can easily keep an eye on your food levels at a glance so you know when it's time to restock the freezer. The top of the freezer holds an ice cube tray so you'll always be prepared for a chilled drink. Being a 4 star rated freezer this model reaches below -18°C, allowing you to freeze fresh food and store food for up to 12 months whilst maintaining all the nutrients and freshness.
The Matrix MFC501 has an impressive 'A+' energy efficiency rating and is quieter than its predecessor at only 39 decibels. Giving you a highly efficient fridge freezer which is kinder to the environment and your monthly electricity bill.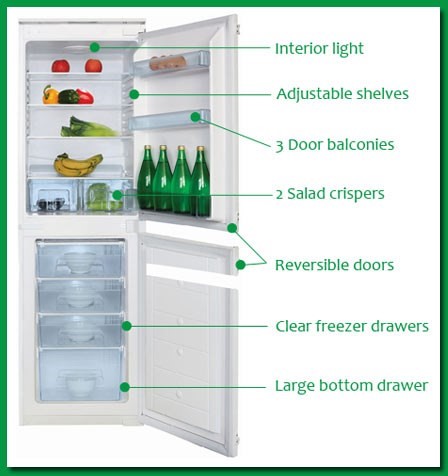 Features:
Integrated
4 Star rating
Manual control
Reversible door
Height adjustable feet
Interior light
2 Salad crisper drawers
3 Glass shelves plus a half shelf
3 In-door balconies
4 storage compartments
1 egg tray
1 ice cube tray
Freezing capacity: 4.5 kg/24 hr y
Max storage time (power failure): 11 hours
50/50 Fridge Freezer Split
Door Fixing Type: Sliding Rail
Climate class: N-ST
Noise level: 39 dBA
Energy efficiency rating: A+
Energy consumption in a year: 274 kWh