Product Information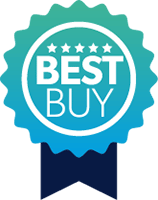 Best Buy
By collaborating with some of the world's greatest brands, we've created specialist Best Buy collections across our most popular product ranges. We will keep them updated, to bring you the best choice, the best price and the best products. And that's a promise.
What stands out
Combined 110L capacity makes perfect for family cooking
Programmable LED touch control timer helps you keep track of cooking times
Enamel oven interiors for quick and easy cleaning
Built in eye level design
Double glazed doors keep outside cool to the touch
Timeless black design looks great in any kitchen
The details
Enjoy yummy meals with this double oven from Hisense. With a main electric fan oven for consistent cooking in all shelves, you'll find making a Sunday roast fast and efficient. And the second electric oven has a handy grill setting, which leaves lasagnes and pies with a delicious crispy top. Plus, you don't have to worry about overcooking lunch or dinner again – the timer lets you set the oven to turn off when your food is ready to eat. You'll also love the grease-proof enamel liners, as cleaning the interior only takes a quick wipe down.
Big capacity Double Oven, With a combined capacity of 110 litres, main Oven 72L and second oven 38L which is great for family cooking and dinner parties. Main electric fan oven cooks food evenly on every shelf and give you lots of choices
Circular fan, Main electric fan oven cooks food evenly on every shelf and give you lots of choices
LED Touch Full Programmable Timer, Within LED timer you can keep track of times for cooking, set the timer and it will let you know when your food is ready.
Defrost function, Main Oven defrost function allows you to thaw frozen foods safely in a quick and efficient way. Activate by simply turning the knob, you can heat up succulent dishes safely and effortlessly.
Child Lock protective, Lock function for control panel offer you relief when you running the programme. Avoid any mistake touched and keep your child protected.
Essential info
Built in eye level design
Dimensions: H 88 x W 60 x D 55cm
Fuel type: Electric
Top cavity: 38L conventional oven and grill
Bottom cavity: 72L Fan assisted oven
Energy rating: A
Warranty:2 Years