Product Information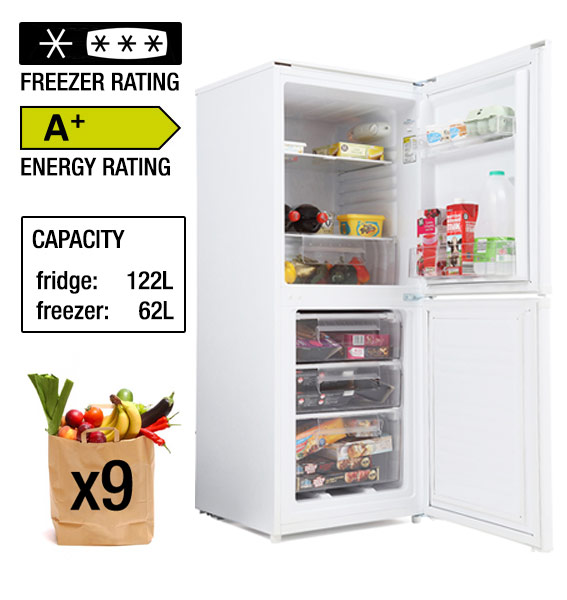 PLENTY OF STORAGE
Ideal for a smaller family home, this slim and stylish fridge freezer boasts a generous 173L storage capacity split 50/50 to ensure youve got plenty of space for both fresh food and all your frozen goods.
Inside youll find theres place for everything. The full sized salad crisper is perfect for storing all your fruit and vegetables, while the 2 glass shelves can be adjusted in height to make room for taller items.
AUTO DEFROST
This clever system is designed to eliminate the build up of ice and frost to help maintain an optimum food temperature. It means youll never have to waste time and energy having to defrost manually again.
ENERGY EFFICIENT
Save money on your energy bills and help you to protect the environment with this energy efficient fridge freezer. It boast an "A+" energy class rating which uses up to 25% less energy compared with an "A" energy rated fridge.
POWER FAIL SAFE STORAGE
In the event of a powercut this feature ensures you food remains chilled and frozen for up to 16 hours so you dont have to worry about your food being ruined.
4 STAR RATING
This 4 star rating freezer provides the ideal freezing conditions for fresh and pre-cooked foods. Anything less than a 4 star rating can only store pre-frozen food.
Fridge Features:
Slim design for smaller spaces
173L total storage capacity
54cm wide yet generous storage space
Fridge net capacity: 122 Litres
Freezer net capacity: 62 Litres
Automatic defrost
Modern white design
2 adjustable fridge shelves
3 freezing drawers
Energy consumption: 0.588 (kWh/d)
4 star rating
16 hour storage in event of power failure
4 star rating
1 egg rack
44dB(A) Noise level
Safety glass shelves
1 Salad crispers
Energy rating: A+
1 Year warranty
Dimensions (cm):
Height:135.8
Width: 54.0
Depth: 58.0
---