Product Information
MAXIMUM PERFORMANCE IN MINIMUM SPACE
If you're limited with space and struggling to stay on top of the dishes then we have the perfect solution for you. This slimline dishwasher from electriQ is designed to fit snugly into smaller areas, yet packs an impressive 10 place setting capacity and a choice of 4 different wash programmes.
Despite its compact size, this stylish freestanding dishwasher is fully featured with a delay timer and a height adjustable basket to help you get the most from your wash. Plus, it also comes with an A++ energy rating to help you save money on your power.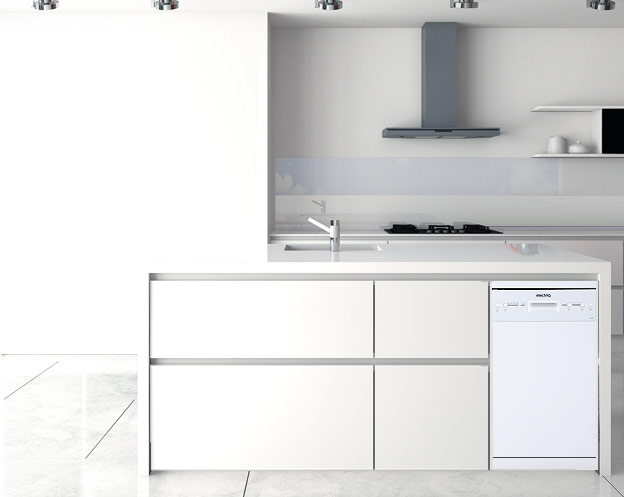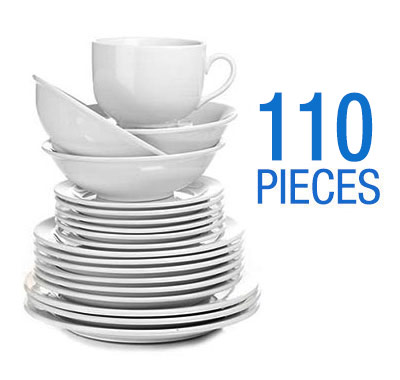 SLIM YET SPACIOUS
electriQ's EQDW45WH dishwasher is ideal for those who want to enjoy all the benefits of a dishwasher without sacrificing on space. It measures in at a mere 45cm in width, which makes it approximately 15cm thinner than an average full-sized model.
Inside you'll find there's plenty of room to load 110 pieces including your pots, pans and plates in one go. For added flexibility, there's also an option to adjust the height of the upper basket to make room for larger items.
ENERGY EFFICIENT
This integrated dishwasher is one of the most efficient and affordable units on the market. It boasts an impressive A++ for energy efficiency that's 20% more efficient than 'A' rated models, which means you'll save money on your energy bills.
4 PROGRAMMES
For the ultimate in wash performance there's a choice of 4 wash programmes to suit all loads. For example there's an ECO Cycle to help keep your energy bills down, an Intensive Cycle to blast away stubborn food, and a Rapid Wash for when you're in a hurry.
Plus, with the option of a Half Load wash programme you no longer have to wait around to fill the dishwasher before running a cycle. Simply load the basket, select the Half Load option, and enjoy clean dishes whenever you need them without wasting unnecessary water or energy.
There's even a time delay setting of up to 9 hours so you can programme the dishwasher to finish when you arrive home from work or start at a later time when it may be cheaper to run.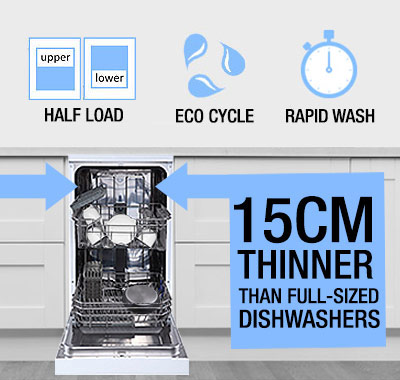 Technical specification
10 Place Settings - Wash 110 pieces in one go
A++ Energy Efficiency Rating - Saves money on your energy bills
49 dB(A) Noise Level - Quiet dishwashing ideal for open plan homes
4 Programmes - Intensive/ Eco/ 90mins/ Rapid
Height Adjustable Basket - Allows you to make full use of the wash cabinet
3h/6h/9h Start Timer Delay - Ideal for busy lifestyles
Half Load Option - Ideal for smaller loads
Dimensions: 845mm(H) x 448mm(W) x 600mm(D)
Height Adjustable upper basket
Number of programmes: 4
Programmes include: Intensive, Eco, 90 mins, Rapid
Start/pause functions
Salt and rinse aid indicator
Annual water consumption: 2520 Litres
Water consumption per cycle: 9 Litres
Annual energy consumption: 211 KWH
Energy consumption per cycle: 0.74KWH
Noise Level: 49 dB(A)
Max temperature reached: 70 degrees
Colour: white
Warranty: 1 year on site warranty
Dimensions
H x W x D: 845 x 448 x 600mm


High
Quality
Manufactured in the same factories as the leading brands.

Great
Value
The UK's lowest prices with no compromise on quality.

Design and Technology
electriQ design high quality products using the latest techology.

Hundreds of Products
An extensive range of products from large appliances to gadgets.