Product Information
Designed and built by William Flavel, the son of Rangemaster's founding family, the Kitchener proved an instant success and graced the kitchens of royalty throughout the world. Today's Kitchener is still highly sought after.
Providing plenty of cooking options, the Kitchener comes with a cast iron gas hob, a separate grill compartment and 2 oven cavities, so there is plenty of room to cook a variety of meals for all the family.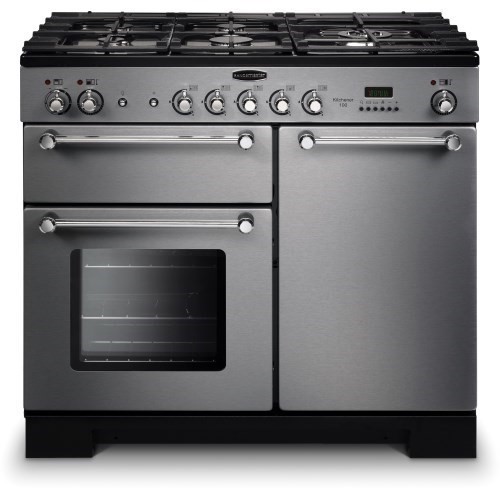 How will this fit in my kitchen?
This Kitchener is 100cm wide, which allows you plenty of cooking space both inside the oven and on the top.
Dimensions: (H) 905-930 x (W) 900 x (D) 607/650 (excl./inc. handles)
Try to leave a gap of 1010mm between units to allow for the range cooker to be fitted easily. It must be possible to move the cooker in and out for cleaning and servicing, so make sure there is at least an extra 5mm of space either side of the cooker and the adjacent units.

5 burner gas hob
The 5 burners on the hob range in power up to a 3.5kW burner for more powerful cooking. With gas fuel, the hob heat is more accurate and controllable, helping you to get better cooking results for each dish you create.
For those who cook with either a wok or larger saucepans, the triple (wok) burner, provides even heat over a large area to help you tackle greater or more adventurous meals.
Fan ovens
With faster cooking times and even heat distribution, the two electric fan ovens in this Rangemaster are efficient and spacious, with A-rated energy efficiency and capacities of 69 and 81 litres – more than enough for the weekly mealtimes as well as larger dinner parties.
These ovens are accompanied by a separate grill that will finish dishes off beautifully or provides a tasty way of whipping up a snack.
Programmable timer
Cook without being in the house with this timer. Whether you want to do a minute minder or set the oven to come on and turn off at certain times in the day, your cooking is in safe and time-conscious hands with the Kitchener.
Design
The sleek stainless steel design contrasts nicely with the traditional viewing porthole on the left oven and the classic cast iron hob to make an appliance that will create an instant focal point in your kitchen.
Full-width door handles and ergonomically designed control knobs give the range cooker a pro chef touch, that are complimented by the adjustable handy rack that makes it quick and easy to tend to roasts.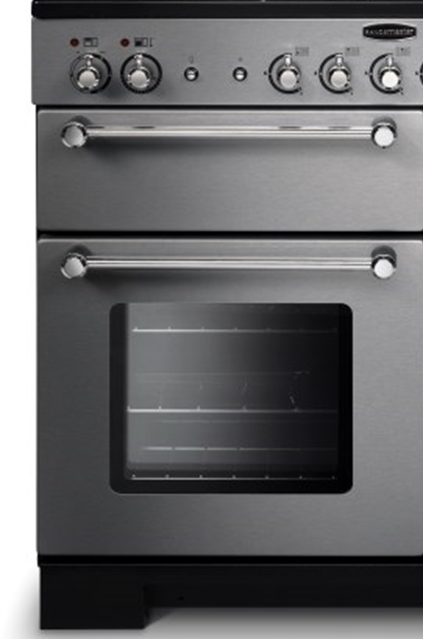 Cleaning
To give you more time cooking and less time cleaning, the Kitchener comes with catalytic self-cleaning liners. Able to absorb steam and fat, these liners will save you from scrubbing the oven for hours.
The heavy-duty cast-iron pan supports are easy to wipe clean, so that even your saucepans will be sitting pretty.
Rangemaster dual fuel range cooker
2 fan ovens
Separate grill
Gas hob with traditional cast iron pan supports
A rated energy efficiency
Dimensions: (H) 905-930 x (W) 900 x (D) 607/650 (excl./inc. handles)