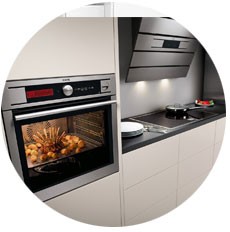 Passionate Perfectionists - AEG want everything to be exactly right - and so you can expect nothing less from your appliances.
Focused on enjoyment and passion for cooking - AEG create products that will enhance your experience, every time you use them.
Chosen by Professional Chefs - Combining design with outstanding cooking performance AEG is the perfect solution for creative chefs.
Top Quality Materials - High-value materials are used, but the number of different materials is kept to a minimum for purity and consistency.
Style is Never an Accident - For over a hundred years AEG have been using cutting edge designers to help create and develop their products.
Don't just take our word for it... Consumer champions Which? has included AEG in the shortlist for the 'Best Home Appliance Brand' category for this year's awards. Which? recognises businesses that have achieved positive change and that delivery excellent products that can survive their rigourous testing and come out best in class. Which? are a coveted symbol of product excellence and they have selected AEG as a leader in the industry, so you can be sure to receive a great product if you make an AEG purchase with us.