Product Information
If you're looking for a microwave that is easy to use, does the essentials and runs at a minimal energy expenditure then the Daewoo KOR6I77 is for you. With a 700W power output, 5 different power levels and a 35 minute timer, this microwave is perfect for those who just want the basics out of a microwave.
Dimensions: (H) 27cm x (W) 44.6cm x (D) 31.9cm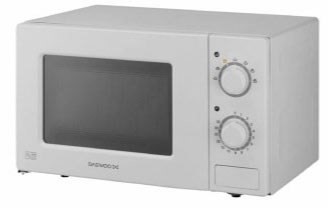 DESIGN
In a crisp white colour, this 20 litre microwave will easily complement your existing kitchen appliances. The traditional design is clean cut and makes it easy to navigate the settings and timer.
The microwave comes with a glass turntable and a rotating ring which can take a plate of at least a 27cm diameter.
POWER
With a maximum power of 700W this manual microwave has 5 different power levels, so that you can adjust the power of the microwave to follow various microwave instructions and cook different types of food accurately.
DUAL WAVE COOKING
This Daewoo microwave has a cooking system that uses 2 heat sources to make sure that heat reaches all areas of the microwave, cooking food quickly and evenly; it's also speedy at defrosting.
TIMER
Let the microwave keep an eye on the food for you with its handy manual timer. With a maximum of 35 minutes, simply turn the timer dial clockwise and it will countdown the amount of time the food has been in the microwave, allowing you to achieve accurate cooking results.
CONTROLS
If you're fed up of seeing microwaves with an overwhelming amount of buttons, dials and screens, then this Daewoo microwave is for you. With only two control dials, one for the timer and one for the power, this manual operated microwave is easy to use and dependable.
EASY TO CLEAN
The outside of the microwave is made from a white plastic which will make it easy to clean. Simply wipe the plastic over with a wet cloth and food splatters and fingerprints will come off no problem. Cleaning the inside of the microwave isn't tricky either, as it's made from enamel which has a smooth surface that is very easy to keep clean.
20L capacity - ideal for small households
Two simple dial controls
Choose from 5 power levels
Dual wave system for quick and even cooking
Handy manual 35 minute timer
25.5cm glass turntable