Product Information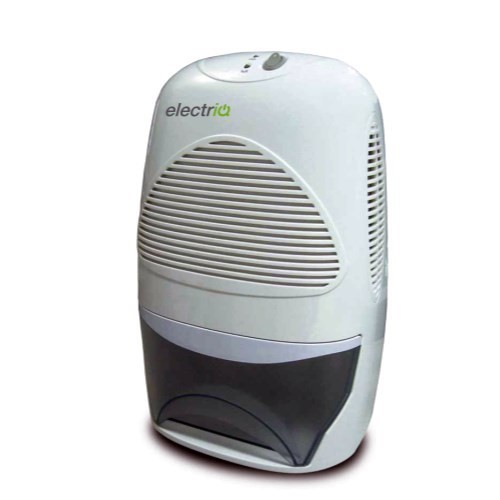 Easy to use
The electriQ MD600 is a lightweight and ultra-portable dehumidifier that's ideal for small areas where traditional dehumidifiers cannot reach. This compact dehumidifier uses compressor free peltier (thermo electric) technology to deliver powerful yet whisper quiet, energy efficient performance to help eliminate damp and condensation in your home. This user-friendly dehumidifier features a single ON/OFF switch that even the most hardened technophobe would get to grips with.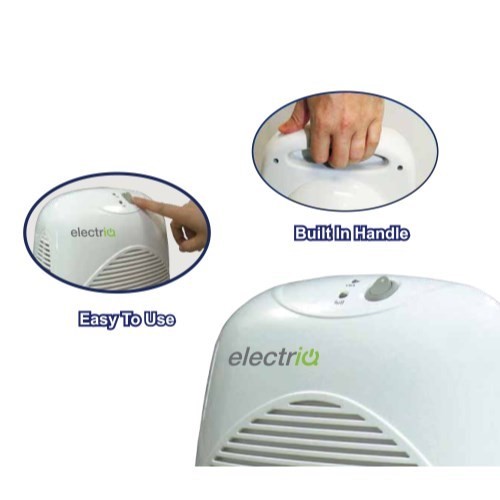 Built-in convenience
The transparent water tank is large enough to hold up to 2 litres of water making it suitable for a few days of operation without needing to be emptied. When the water tank reaches its full capacity the unit will automatically switch off and a handy indicator light will then alert you to empty the tank. The water tank is cleverly positioned at the front of the dehumidifier for quick and easy access. The MD600 also boasts an integrated carry handle and rubber feet for effortless portability and stability.
Key Features
Ultra quiet Peltier dehumidifier technology
Ideal for wardrobes, cupboards, closets or small box rooms
Compact and lightweight design
Simple on / off operation
Built-in Carry handle
Water tank full light
Economical to run
No compressor
Child Safe Vents
Mains operated
Can be used in Caravans, Motor homes or boats
Thermo Electric Peltier Technology using maximum 72 Watts
Front air inlet (can be placed flushed against the wall)
Top air outlet (for better air flow)
Removable front water tank
Rubber feet for maximum stability
1 Year Warranty
Technical information
Capacity : approximately 600ml per day
Cooling element : thermo-electric Peltier module
Fan : 90mm x 90mm DC Brushless motor
Power consumption : 72 W
Removable water tank : 2.0 litres
Frequency (Hz): 50
Dimensions
W x H x D: 245 x 360 x 185mm

Why choose us?
We've won awards for our products

We use the same factories as bigger brands

We offer hassle-free warranty

We have top notch customer service