Product Information
This elegant and beautifully understated chimney cooker hood from Matrix will banish unwanted cooking odours and fumes from your kitchen no problem! With a 360 m³/hr extraction rate, 3 speeds, an eye-catching glass canopy and atmospheric lighting, this cooker hood combines ultimate functionality and efficiency with style.
How will this fit in my kitchen?
This chimney cooker hood is designed to be mounted to the wall. The chimney part is telescopic, allowing you to adjust the height to suit your kitchen and to ensure you achieve the correct distance required between the hob and the hood. Please measure the dimensions of the cooker hood carefully against your available space before buying:
Dimensions: (W) 900mm x (D) 490mm x (H) 530-900mm
Recommended height over electric hobs: 600mm
Recommended height over gas hobs: 700mm
Extraction power
The single fan motor in this chimney cooker hood has a maximum extraction rate of 360 m³/hr which is ideal for smaller to medium sized kitchens. The extraction power can be switched between 3 speed settings to suit what you are cooking and the amount of odours and steam being emitted.
Suitable for ducting out or recirculating
You can install this cooker hood to either duct out or recirculate extracted air, leaving you free to pick this cooker hood based on its style and features rather than its suitability for the position of the kitchen in your home. If you decide to recirculate, you will need 2 charcoal filters (CHA17) and if you are ducting out you will need a 5 inch / 125mm ducting kit.
Easy to clean filters
To keep your hob working efficiently, you must clean its grease trap filters on a regular basis. To make it easy for you, these grease filters can be easily taken out and washed – they are even dishwasher safe!
Eye-catching design
The MEP901SS has a feature glass canopy that will become the focal point of your kitchen and the envy of many. Its minimalist yet stylish stainless steel design will effortlessly compliment other kitchen appliances, and the polished push button controls are smart, clean cut and easy to use.
Lighting
It's not just the aesthetics that makes this cooker hood a feature appliance. The two 40 watt incandescent bulbs with glass light diffusers not only help you to see the hob clearly when cooking, but they also provide the kitchen with an atmospheric lighting that's soft and well spread.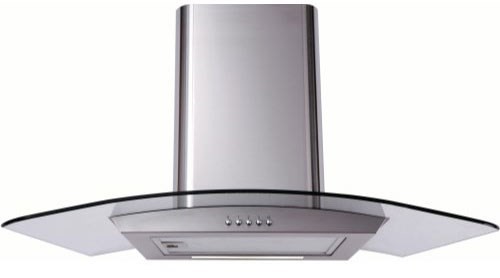 Noise?
With a noise level of 69 dB, it falls just above the noise level of a normal conversation (60-62 dB), so you can still have a chat whilst cooking! But if you fancy turning it off for when you start dinner, if you eat in the kitchen, turn it on 15 minutes before you start cooking!
Matrix guarantee their appliances for 2 years on the parts and 1 year on the labour. Please ensure you register your appliance to receive this.
Technical Details
Extraction rate: 360 m³/hr
Noise level: 69 dBA
Optional Accessories
CHA17 - charcoal filter (2 x required)
5 inch / 125mm ducting required if ducting out
Stainless steel chimney cooker hood
Glass feature canopy
360 m³/hr extraction rate
3 speed settings
Dishwasher safe grease filters