Product Information
The HN6410FR induction hob makes cooking effortless, efficient and economical. With a modern frameless black design, this induction hob will suit most kitchens and can complement black, white and silver kitchen appliances. It is easy to use, powerful and thoughtfully designed with features that makes this hob a pleasure to cook with.
Dimensions: (H) 60mm x (W) 580mm x (D) 510mm
Induction technology
Induction hobs use electromagnetism to cook. From the second a pan touches a cooking zone, the hob automatically detects a pan touching its surface and starts to heat the point of contact on the zone. A magnetic field is created which allows heat to pass from the zone to the base of your pan. The rest of the hob remains cool and the zone heats up quickly.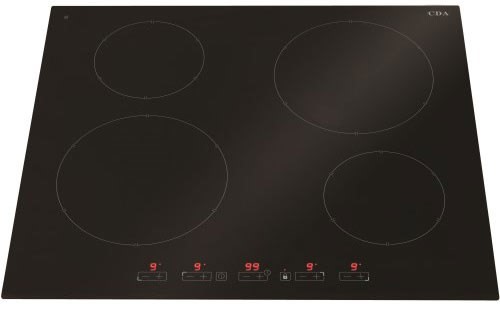 Powerful
Each cooking zone comes with 9 power levels which allows for a precise, responsive and powerful control over the heat going to your pots and pans, so you can achieve more accurate cooking results for different foods.
To give your cooking a kick-start, this induction hob has a booster function which will allow a zone to run at a higher power than the normal maximum level for 10 minutes before returning back to power 9. This is ideal for bringing pans of water or food to the boil quickly.
Touch control
All functions of the hob are operated by touch controls. Placed at the front of the hob, you won't have to reach round hot pans to operate the controls and a LED display makes it easy to see what power level each zone is on.
As well as touch buttons for the power levels, timer and on/off, there is a key lock button that allows you to lock the controls to prevent accidental operation during cooking or if you have children and pets.
Timer
Cook food to within a second's precision with the timer. It has a maximum countdown of 99 minutes, a minimum of 1 minute and can only be used for one zone at a time. When the set time is up, the zone will turn off and the LED timer will flash.
Safety features
This induction hob makes your kitchen an even safer environment to cook in, with the addition of these safety features:
Small object detection: If anything is left on the hob such as cutlery or towels, the hob will automatically switch itself off and beep every 10 seconds until you remove the obstruction.
Anti-overheat protection: If you are installing this hob over an oven, the hob can monitor the temperature of the hob to make sure the heat from the oven doesn't cause the hob to overheat.
Residual heat indicators: To make you aware of when the hob is too hot to touch after cooking, an "H" will be displayed on the hob until it has sufficiently cooled enough to touch.
Auto-safety switch-off: If you haven't set a power level after 10 seconds, the hob will switch off automatically.
Easy to clean
Induction hobs only get hot on the area your pan made contact with its surface, therefore any food splatters that land on the hob will not burn and harden because the surface is cool, leaving you free to wipe food off easily.
To give your induction hob extra TLC, take a look at our ceramic and induction hob care kit here.
Zone Information
Front left: 1.5(with booster 2.0)/210 kW/mm
Front right: 1.2(1.6)/145 kW/mm
Rear left: 1.2(1.6)/145 kW/mm
Rear right: 1.5(2.0)/210 kW/mm
Technical Specifications
Rated electrical power: 2.8/3.5/6/7.2 kW
Power supply required: 13/16/25/32 A
Key Features:
4 zone eco induction hob
9 power levels
Touch controlled
99 minute max. countdown timer
Surface stays cool throughout cooking