Product Information
The Stove SEB900MFS Built-in Double Oven is ideal for increasing cooking capabilities whilst saving space. Fitting neatly within your kitchen this double oven provides conventional cooking in the main 58L oven and variable electric grill cooking in the top 35L oven.
SEAMLESS DESIGN
The Stove SEB900MFS built-in double oven is designed to integrate beautifully within your kitchen. Fitting into a kitchen column saving space whilst providing spacious cooking. With a stylish stainless steel and black glass finish the oven will suit any contemporary kitchen. The controls and LED display are located at the top of the oven for easy access.
Made in Britain you can rest assured this appliance has been carefully constructed from scratch by a team of experts.
VERSATILE COOKING
Cook in a variety of methods with the Stove double oven. The main oven offers conventional cooking, with top and bottom element options you can choose a setting to suit your dsih. Ideal for cooking multiple dishes at different temperatures. Gently cook a roast on the bottom shelf whilst crisping roast potatoes on the top shelf.
Conventional cooking is great for maintaining moisture, keeping meats succulent and preventing cake and breads from becoming dry.
The top oven offers cooking with a variable electric grill, giving great extra oven space and ideal for finishing off meals. Utilise the grill and add a crispy golden top to your shepherd's pie or lasagne.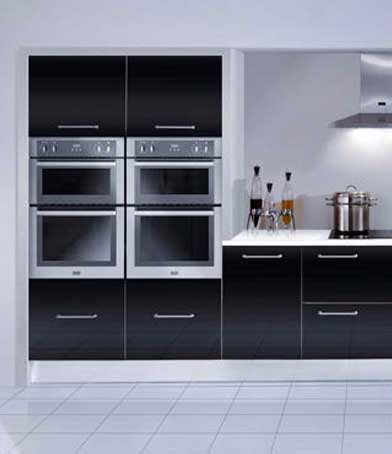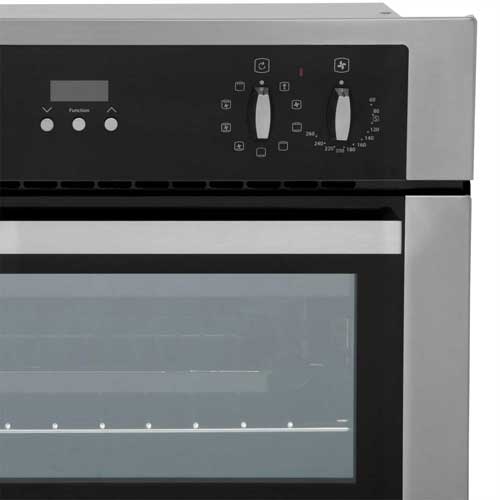 EASIER COOKING
Fitted with telescopic sliding shelves it's much easier to check on a dish and load heavier cookware in to the oven. With seven shelf positions in the main oven you can achieve the perfect cooking level to suit your dish.
The oven has a practical minute minder enabling you to be precise with your cooking. You're also able to set the oven to switch off after a specified time, you'll never over cook a dish again.
COOKING VISIBILITY
This Stove oven has been equipped with halogen flood lights, delivering excellent illumination inside the oven whilst using 20% less energy than standard bulbs. Easily check on a dish without having to open the door, and avoid letting any heat escape which could affect your dishes results.
EASY CLEANING
The interior of the oven has a specially designed enamel which resists cooked on food and accidental spillages, easing your cleaning.
Features:
Versatile cooking, conventional oven with variable electric grill
Halogen flood lights give excellent food visibility
Telescopic slider shelves, easy access and dish loading
Easy clean enamel interiors, resists cooked on food
Cook to off and minute minder, precise cooking
Facia cooling system, keeping the exterior of the oven safe to touch
58L main oven, 35L top oven
Rotary controls, buttons and LED display
Made in Britain
Designed to be fitted at eye level
Includes grill pan/drip tray (handle not included)
Energy efficiency rating: A
Bottom door hinges
Functions: Intensive bake, fanned cooking, conventional cooking, defrost, pizza, top heat, base heat, base heat with fan and fanned grilling
Dimensions: H90 x W50 x D60 cm